This new workplace in Townsville takes inspiration from its tropical location, with a robust material palette enlivened by an appealing splash of natural colour.
The new Townsville office for global engineering company SMEC, designed by Counterpoint Architecture with interior design by Ethos Interiors, achieves a deft balance between practicality and poetry. Its predominantly open floor plan is a far cry from the company's previous cramped office space, and the entire workplace is imbued with a wonderful sense of belonging in its tropical location. According to Ethos Interiors' Principal Anna Williams, this was a key part of the client's brief. "A lot of clients typically come to us wanting to replicate a Melbourne, London or New York design sensibility," she explains. "But SMEC said, ''we want our Townsville office to feel like it's in Townsville''. So we made sure to reflect the local style and attitude in the interior's overall design."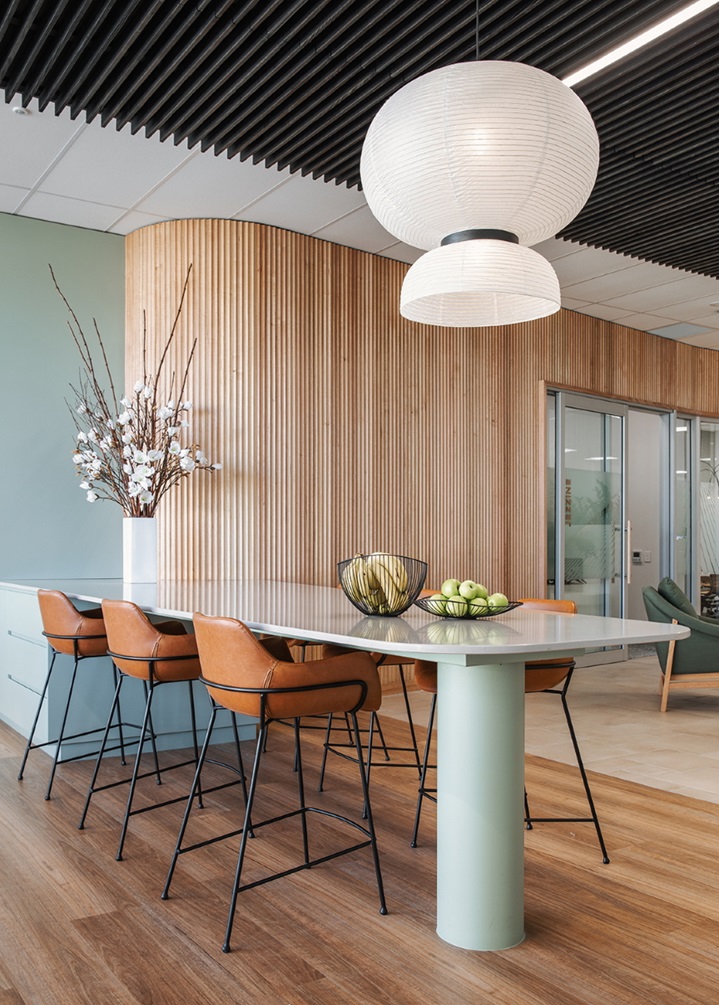 Full-height glazing does part of that job, by offering expansive views out over the central part of the city, while also ensuring that natural light penetrates deep into the office space. But throughout, its Ethos Interiors' palette of materials and colours that works hardest in evoking the laid-back lifestyle and natural environment of the region. There's a curved timber batten wall and timber-look flooring, as well as terracotta floor tiles chosen as reference to Castle Hill, the city's pink granite monolith, which is only a short walk away to the west. Dotted around the main open-plan area is a mix of furniture pieces – deep green armchairs, timber dining chairs, leather banquette seating, and a variety of stools and white tables – that gives the scheme a casual aesthetic reminiscent of a breezy cafe.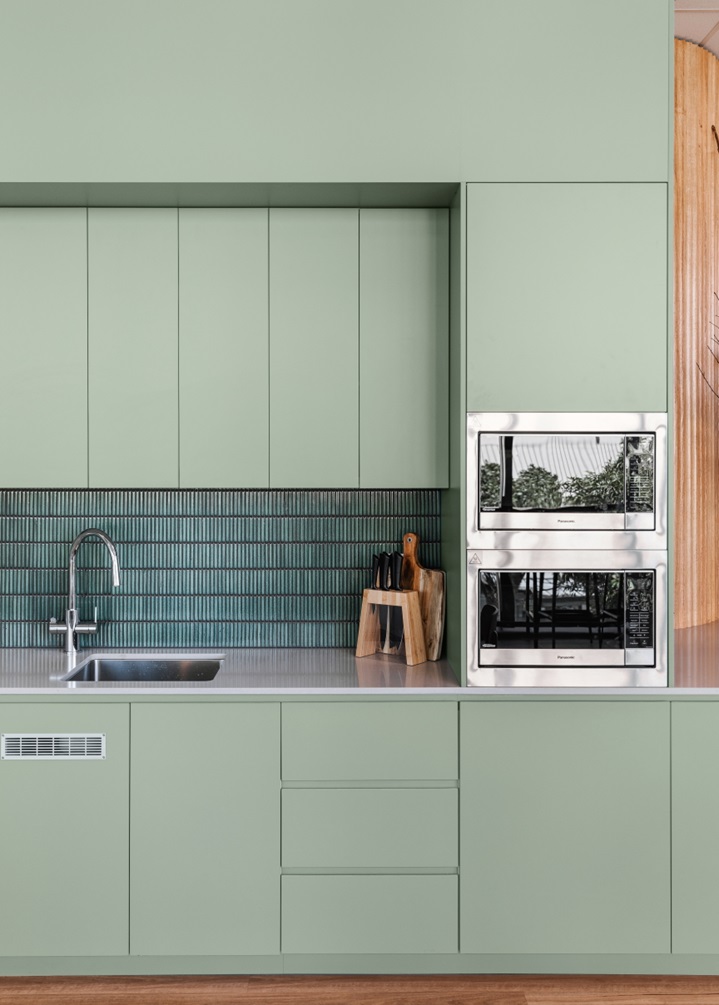 But it's the centrally positioned kitchen, where staff gather regularly for formal and informal meetings, that visually anchors the design. "We didn't want to play it safe. The rest of the office is relatively neutral, and we thought this would be the ideal spot to introduce a bold block of colour," says Williams. "So we designed the kitchen's joinery and a small adjacent zone in Laminex Bayleaf." This decor is perfectly suited to the tropical theme, it's mid-tone natural green with a hint of grey introducing a cooling splash of eucalyptus colour into the predominantly warm-toned interior. Specified in low-sheen Natural finish, it sits comfortably with the natural timber and terracotta surfaces. And to provide continuity within the space, it's been matched by a similar paint colour applied to a cylindrical support at the far end of the kitchen bench.
The effect is fresh yet sophisticated, and the choice of Laminex Bayleaf was also very practical, as Williams points out. "I like using Laminex because it's cost-effective. But more importantly, it's durable, which is necessary in an office that's used by a lot of people all day, every day," she says. "Essentially, the entire palette is all about hardwearing materials." So while this workplace design's harmony with the local context will help it stand the test of time, the fit-out's surfaces will too.
Design: Ethos Interiors Architect: Counterpoint Photography: Matthew Gianoulis www.matthewgianoulis.com Cabinetmaker: Townsville CabinetmakingBuilder: Phoenix Constructions