Practice profile: Kennedy Nolan
Architect Rachel Nolan talks about her enduring partnership with Patrick Kennedy, and their practice's approach to colours and materials.
Fate surely played a role in the business partnership of Rachel Nolan and Patrick Kennedy, co-founders and directors of one of the country's most respected architecture practices, Kennedy Nolan. Growing up on either side of the Murray River - Nolan in Albury and Kennedy in Wodonga – they shared similar childhood experiences, but their paths never crossed until they arrived as residents at Melbourne University's Newman College, which was designed by the visionary Walter Burley Griffin and Marion Mahony. "We didn't know each other growing up," says Nolan. "But living in a pretty powerful building together, we became aware that your environment can have an exciting impact on you. It was the first time we were living in a building that came with real architectural merit."
Track forward to 2019 and that last phrase, "architectural merit", is frequently associated with their award-winning work for Kennedy Nolan, which this year celebrates two decades of practice. The team has expanded over the years, from the original two to 20 people, and while its focus has also broadened, it remains committed to what Nolan describes as "making spaces memorable".
From architecture students to industry leaders
In their university days, Rachel and Patrick bonded over a shared appreciation of Merchant Builders, one of the first house-building companies in Melbourne to take architect-designed houses to the suburban mass market in the mid-1960s. "There was a particularly Australian quality about the houses where the buildings were quite relaxed and modest, with lots of interior brickwork and exposed beams," says Nolan. "Patrick and I used to come together around university and talk about what we remembered about them as kids. I think we both enjoyed something about that shared experience. It was considered quite daggy when we were in our 20s, but now there's a lot of talk about Australian modernism."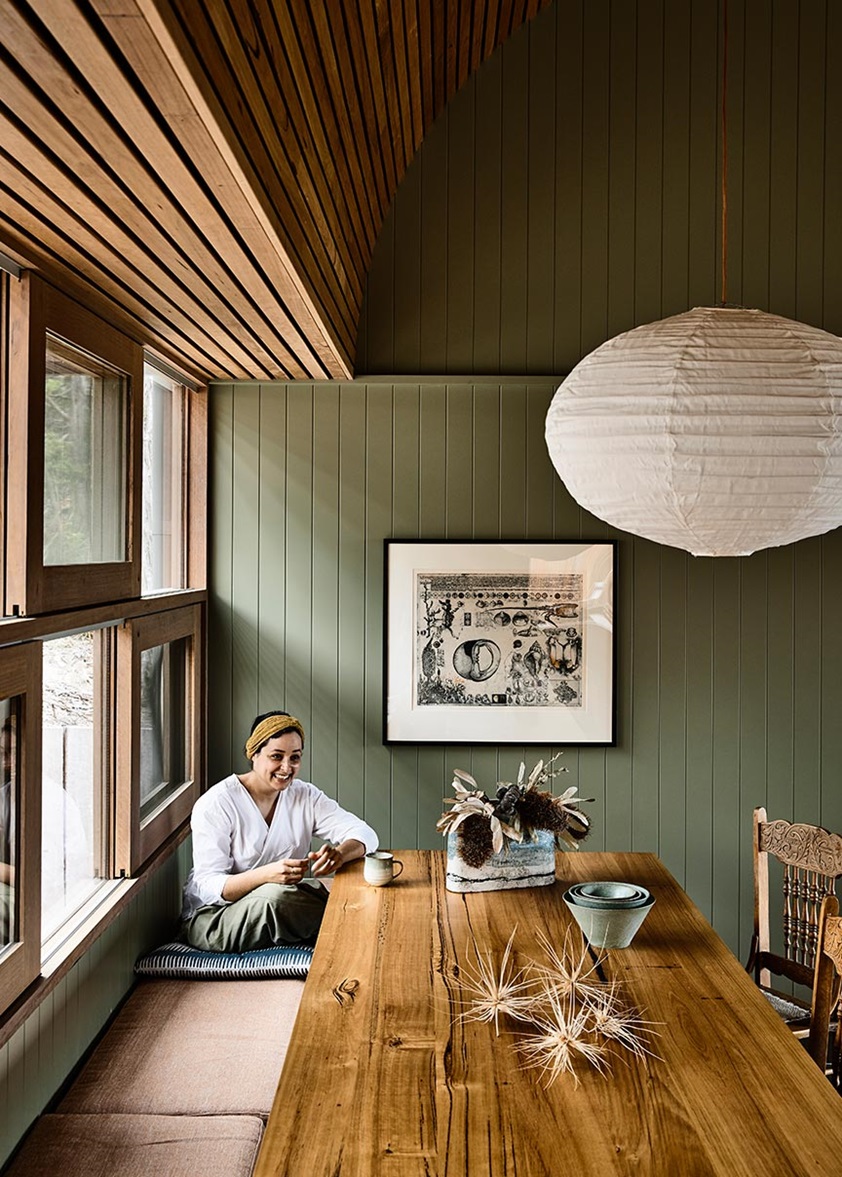 Considering the sentiment of these early conversations, it's little surprise that Kennedy Nolan has earned a reputation for designing outstanding houses, although their projects have increased in scope and diversity as the practice has matured. "The house is such a beautiful place to test things. Providing houses for people is personal and deeply enjoyable for our practice," says Nolan. "But as we got bigger, we became interested in using our design sensibilities to resolve other problems, or other areas, of architecture." Such projects have included public spaces like an arcade and bridge in Melbourne Central Shopping Centre, and an upgrade and extension of Sacred Heart Primary School in Oakleigh. "We've pushed pretty hard in the past decade to diversify," says Nolan.
Kennedy Nolan was also part of the original cohort of practices to invest in Nightingale Housing, and is designing one of the buildings in the forthcoming Nightingale Village, a future precinct in the inner-Melbourne suburb of Brunswick comprising six neighbouring buildings, each developed to the Nightingale Model of sustainability, community and design.
Using colour to create memorable moments
Colour plays a strong role in the interior work of Kennedy Nolan. The studio's Caroline House, which won a 2019 Dulux Colour Award, features a playful, apple-green staircase that punctuates a classic black-and-white palette. The Sandy Point House in eastern Victoria, which was recognised with an award for residential architecture at this year's Victorian Architecture Awards, features textural wood-paneled walls in soft eucalyptus green that echo the tones of the surrounding bushland.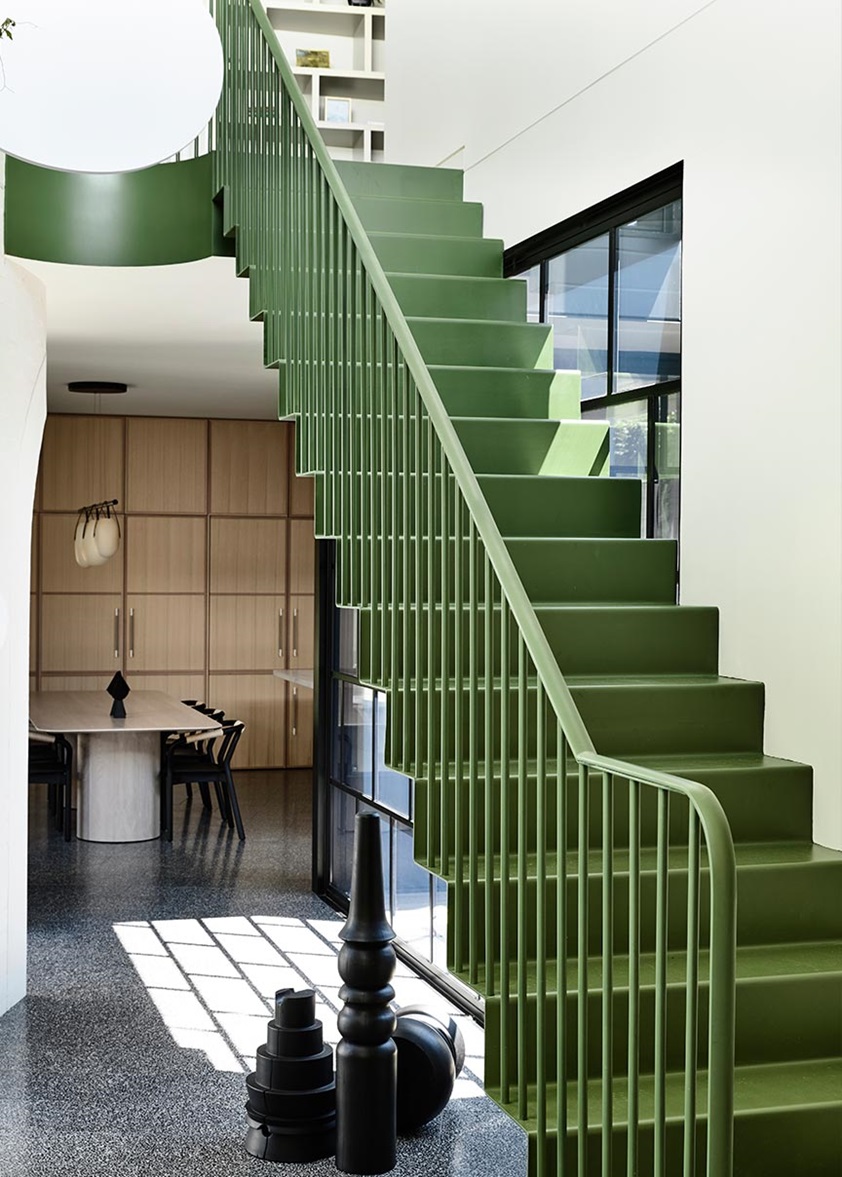 Nolan says colour is used to create memorable moments of delight. A fine example of this is seen in the practice's Malvern House, where a pivot door has been painted with an arch motif in one of the studio's favourite colour combinations, blue and green. "There's a saying that they should never be seen, except with a colour in-between," she observes, "but I always think of the two colours that come up against each other in nature, a blue-sky backdrop to green hills."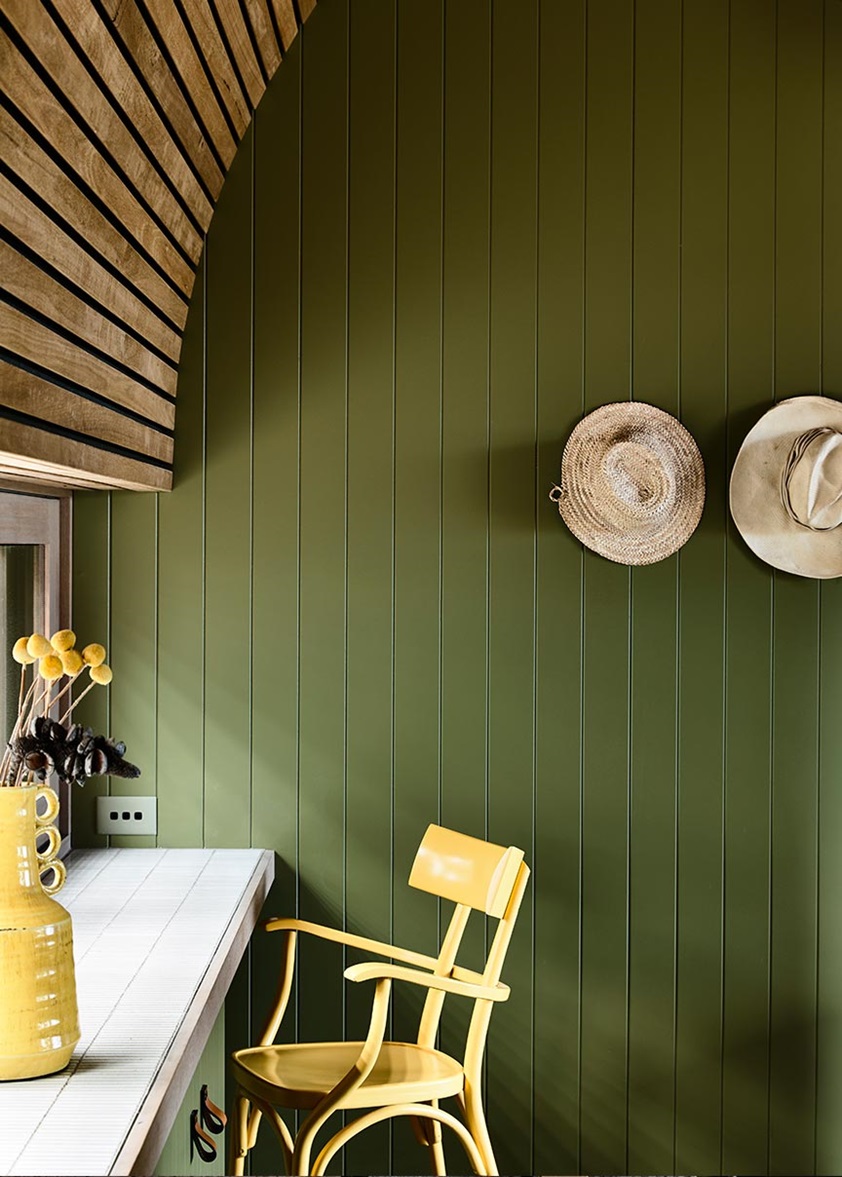 Nolan adds that using colour is often a cost-effective way to create these moments. She describes a "memorable, playful moment" created through the application of bright blue laminate to Oregon timber joinery in Kennedy Nolan's Oak Tree House. "We used it in a graphic, decorative way and it looks beautiful," she says. "Adding laminate is such a great way to bring something in to a design that looks like it's been considered and that people are getting something special."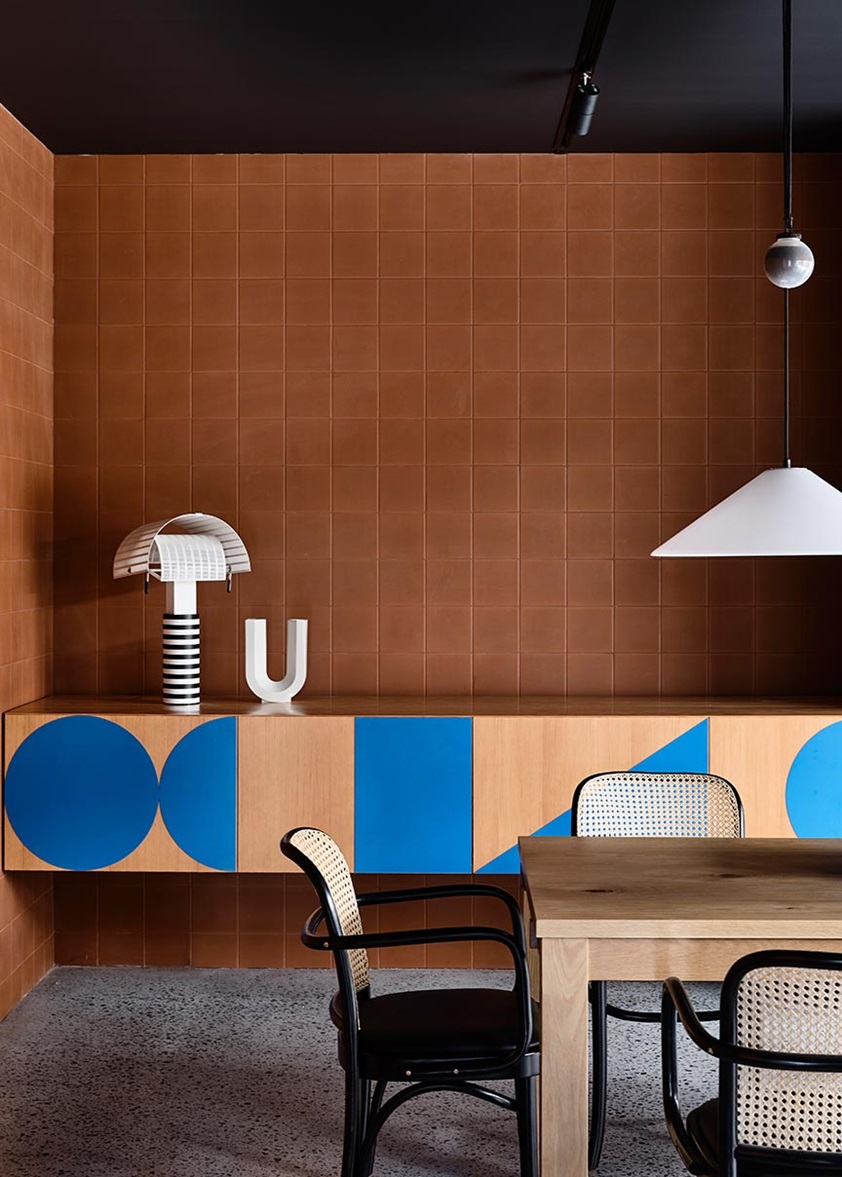 The practice is also discerning in its use of materials. Like Kennedy Nolan itself, they must stand the test of time. "The integrity of the materials in a building is a perceptible thing over the decades," she says. "We're always very interested in what our buildings are made from. Materials are what you touch and they are the background for everything – for all the life that you have inside a house. We want textures and colours and materials to feel substantial."
To keep up with the latest news, offers, product information, trade resources and design inspiration from Laminex, sign up for our newsletter here.
You might also be interested in these articles