The idea of redesigning your entire kitchen might seem daunting, but it helps to remember that sometimes the smallest design details have the biggest impact. To make it easier for you, we compiled this list of five simple strategies you can employ that will make your kitchen sing!
1. Ultra-matte surfaces are ultra-contemporary
Matte finishes are everywhere in contemporary design. Their lack of reflectivity gives them a soft, tactile appearance perfect for benchtops, island benches and minimally designed cabinetry (especially handle-less doors and drawers). Matte black, the most popular colourway, will give your kitchen a very sophisticated, modern feel and, while most matte black surfaces quickly become marked by fingerprints and other smudges, Laminex AbsoluteMatte has an anti-fingerprint ultra-matte surface that looks beautiful, no matter how much it's used. Matte surfaces in lighter natural colours, such as AbsoluteMatte Surf, are another great option and will add a more relaxed, organic feeling to your kitchen.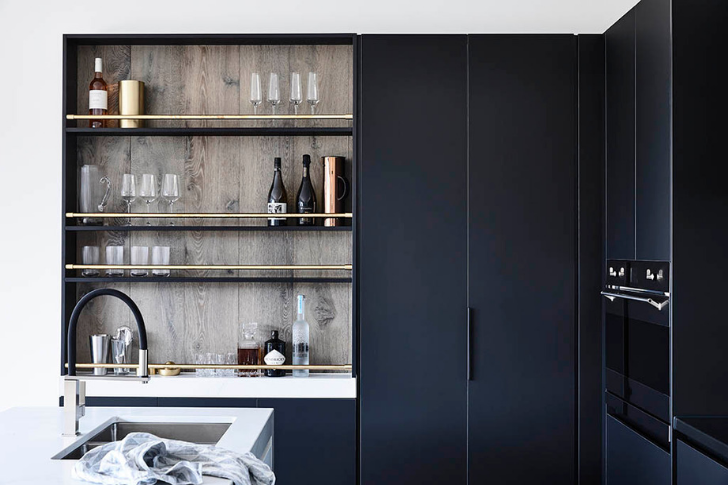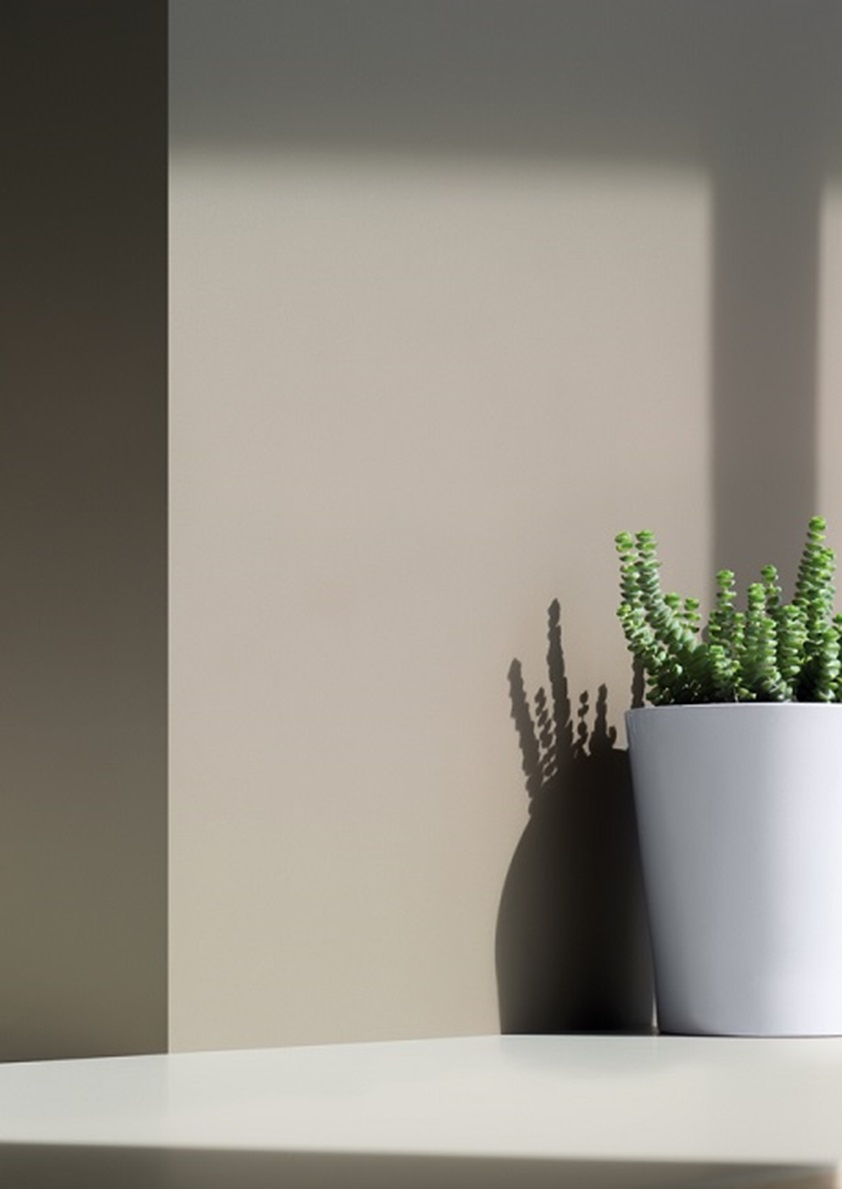 2. Surprise yourself with hidden pops of colour
Letting your kitchen cabinetry's main structure, the "carcass", default to white or black is a missed opportunity. Coloured carcasses can add colour and contrast where it's least expected. Opening a white cupboard to reveal an interior in a pastel like Laminex Just Rose or Aquamarine creates a sense of surprise and fun. Using an authentic timber-look decor such as Laminex Raw Birchply, behind drawers or doors in a decor like deep blue French Navy brings feelings of warmth, authenticity and craftsmanship. And if there's a colour you want to hero, a mid-tone neutral like muted organic green Laminex Possum can be matched to all of your joinery, inside and out.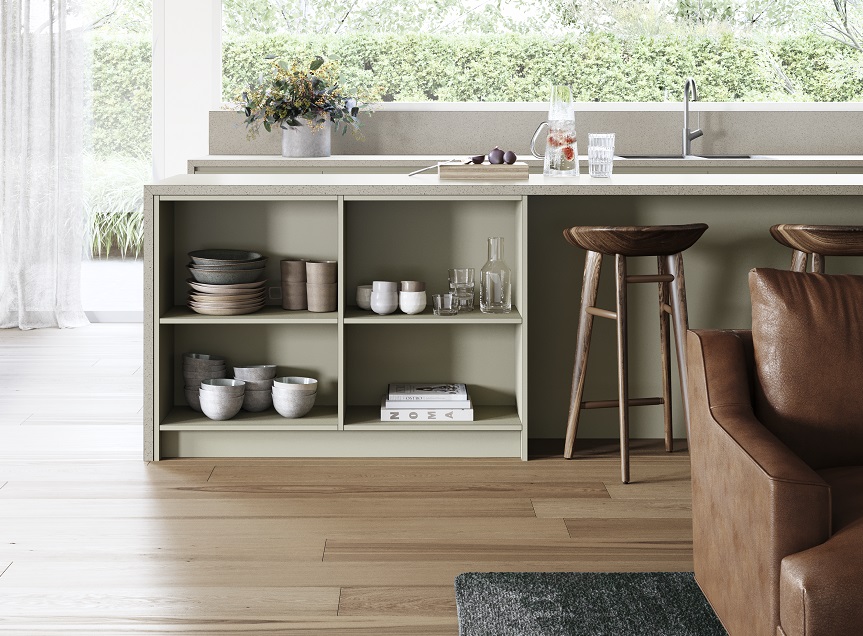 3. Take metallic contrast to the edge
Metallic edging along a benchtop or countertop can add a sophisticated but subtle glint to your kitchen. Laminex offers acrylic edging in a range of metallic colours "" try matching Laminex Brushed Stainless Steel edging to a pastel island bench for a retro feel, or bring a touch of sophisticated glamour with a strip of textural Laminex Copper Acrylic edging highlighted against dark joinery. Or customise your benchtop design with decors from the wider Laminex laminates range. For example, a wide strip of soft metallic pink Laminex Matte Rose Gold paired with a blond woodgrain like Raw Birchply. You can use the same approach for kickers too, adding another unobtrusive pop of colour along the base of floor-mounted cabinetry.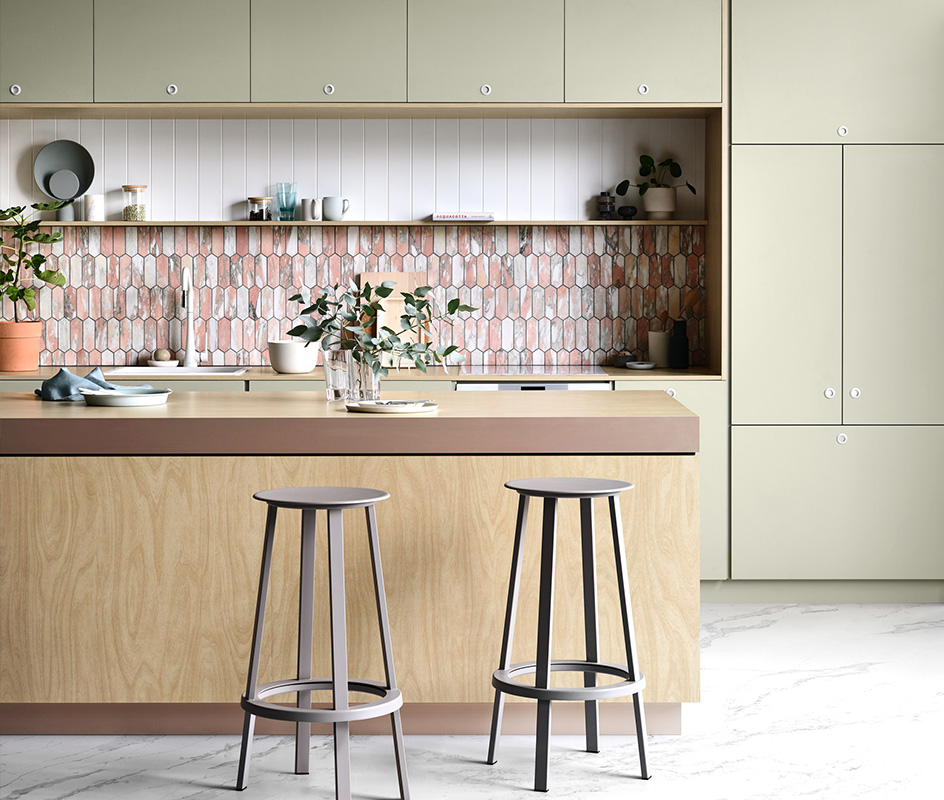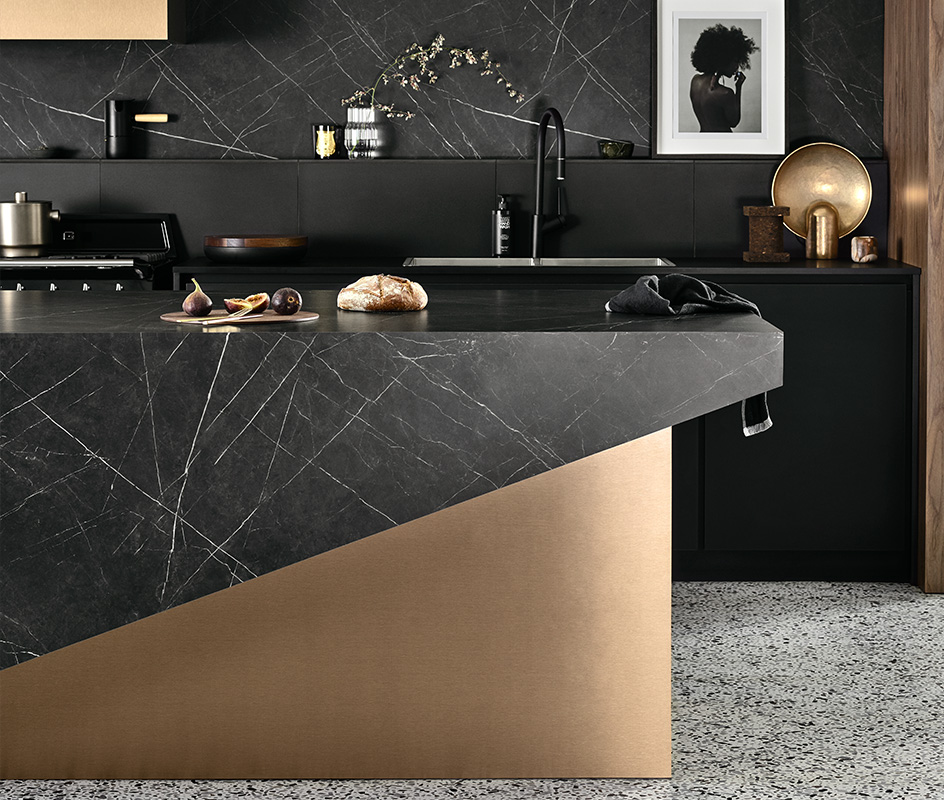 4. Make a statement with accent wall panelling
Accent wall panelling is great for defining different functional zones in an open-plan living area. And if you love a particular colour or pattern, why not celebrate it? The detail and texture in Laminex Woodgrains and Minerals decors make them perfect for larger-scale applications like the spaces pictured below.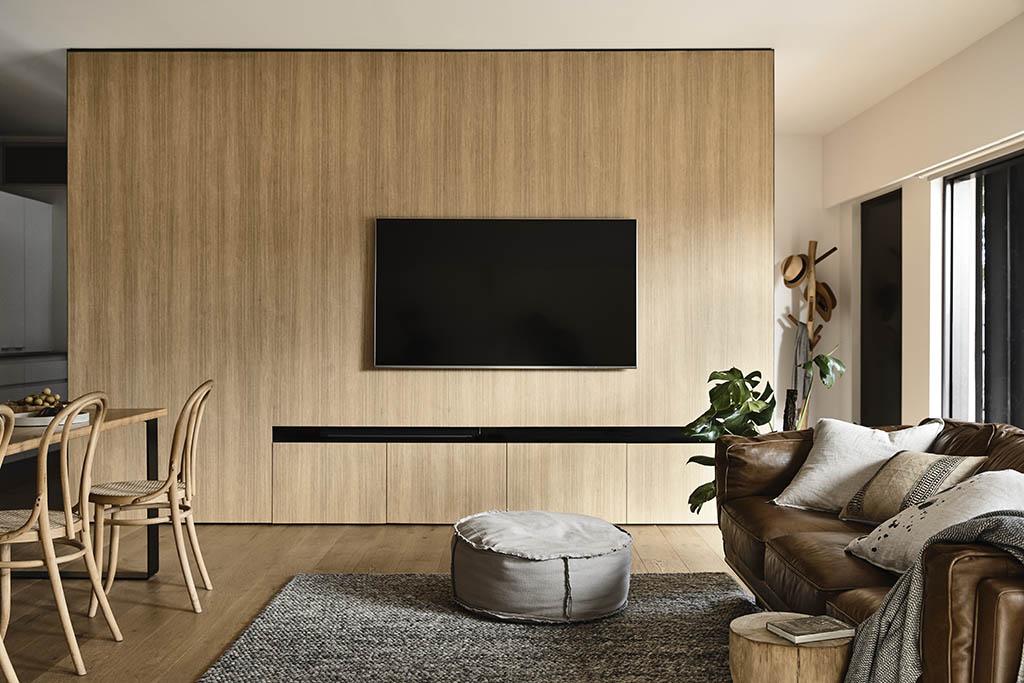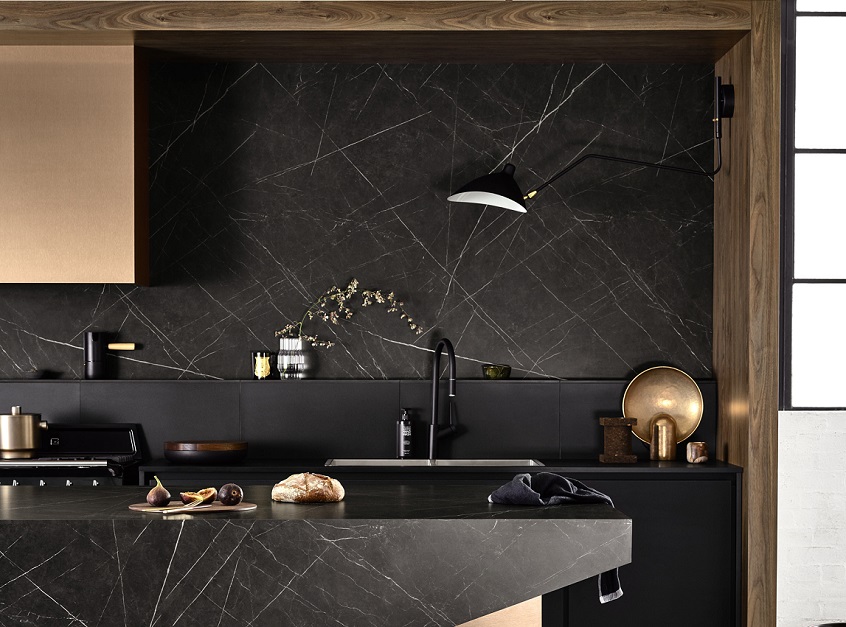 Think black marble-look Nero Grafite for a kitchen wall, perhaps complemented by warm metallic Brushed Bronze and elegant Natural Walnut; or a wall of Laminex Sublime Teak incorporating media equipment and storage in a lounge area.
5. Cabinetry that feels like furniture
Nothing brings feelings of warmth and authenticity to a home like timber surfaces, and tall timber kitchen cabinetry can create an impression more like a piece of bespoke furniture than built-in joinery. With such a broad range of incredibly realistic timber-look decors in the Laminex Woodgrains range, cabinetry of this scale can play a significant role in influencing your kitchen's style and mood too. Just two examples of many, Laminex Delana Oak's brown-based grey colouring brings a feeling of weathered timber, while Classic Oak's refined woodgrain and light warm tones pair beautifully with white surfaces in a clean, modern kitchen.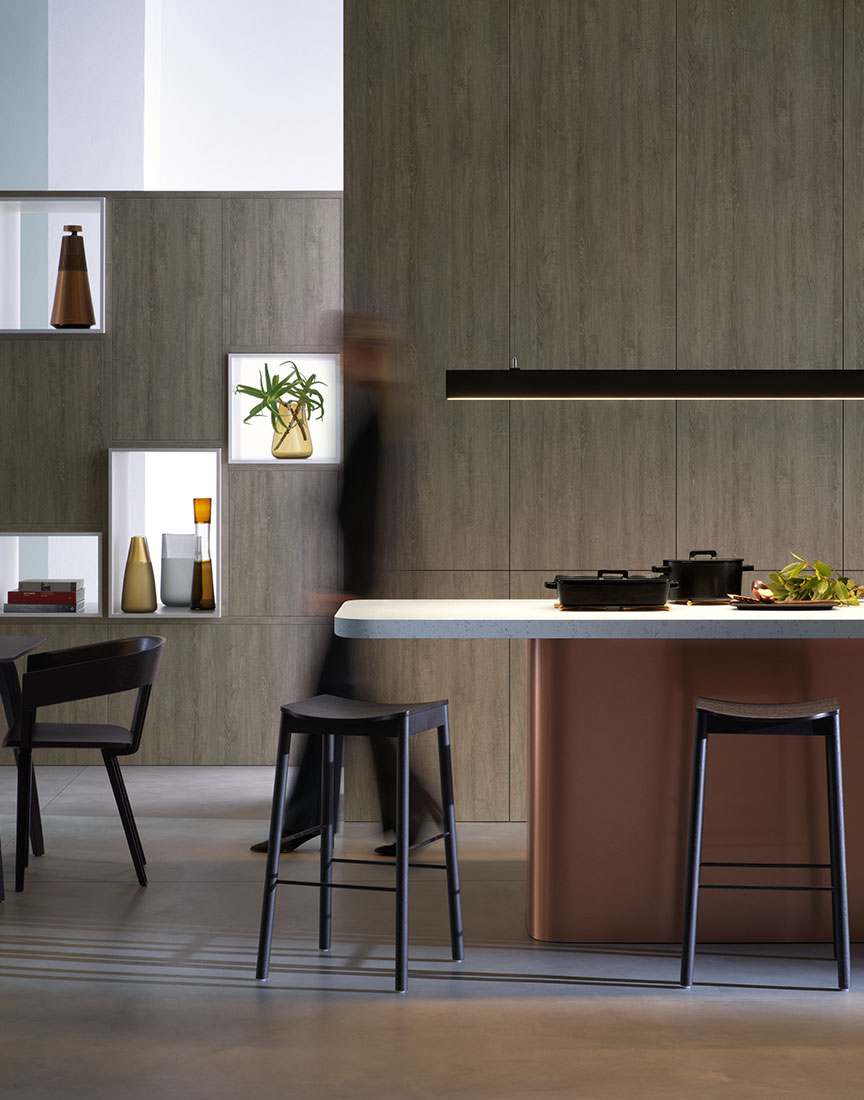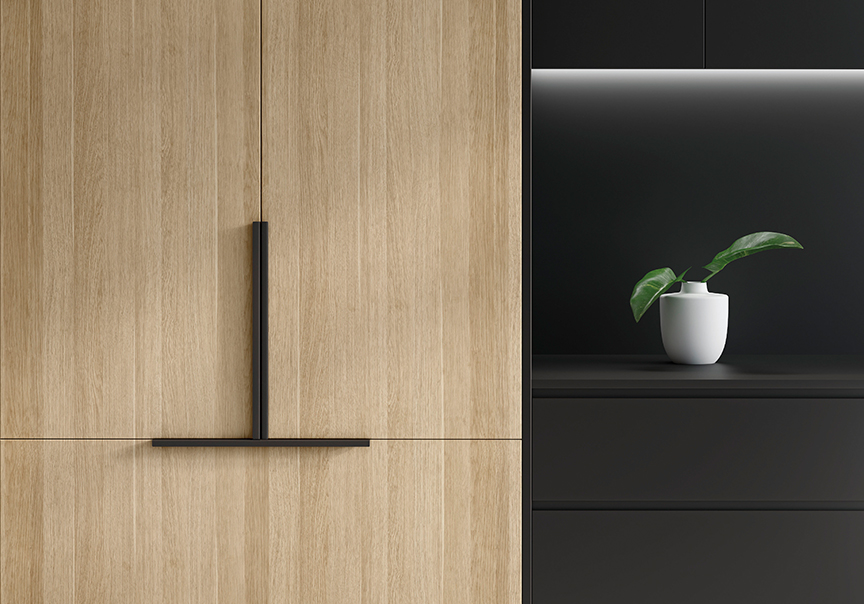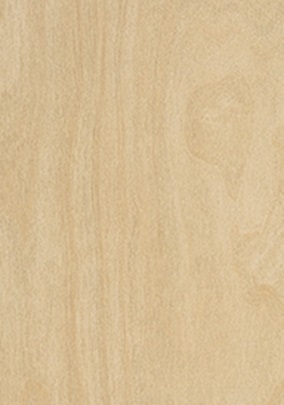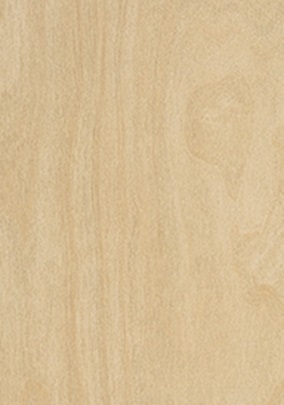 Colour Collection
Raw Birchply
---
Explore the Laminex Colour Collection
Inspired globally and designed for the Australian lifestyle, the new Laminex Colour Collection is a cohesive colour and product range that reflects a movement towards design that connects with our natural environment. Expect beautiful timber grain laminates with true realism, muted organic colours, urban influences and dramatic finishes.