There's a strong movement toward organic, curving shapes in interior design, and these examples show how Laminex laminate is the perfect material for the job.
As we said in our report from Milan Design Week 2019, the strongest design direction for furniture and fittings seen at the event was the use of curved shapes and rounded edges. Trend forecaster and interior designer Bree Leech provided the key observations for the report and, noting that the flexibility of Laminex laminate makes it the perfect material for delivering curved designs, we asked her to create a laminate kitchen in a style that captured the essence of what she had seen.
A striking marble column made with laminate
"Given that laminate is such a flexible material, I thought, let's really play with curves," Leech recalls. "I was also interested in the trend around marble, and how the two ideas could work together." Those thoughts inspired the most immediately striking element in her kitchen design, a column supporting the island bench clad in Laminex Carrara Marble. "That beautiful curved column makes the kitchen feel quite luxe, it gives the impression of a solid marble column, but it's very achievable when you're using laminate," says Leech. While the physical properties of laminate make that curved shape possible, it's the stunning realism of the veining detail in the Carrara Marble decor that makes it really sing.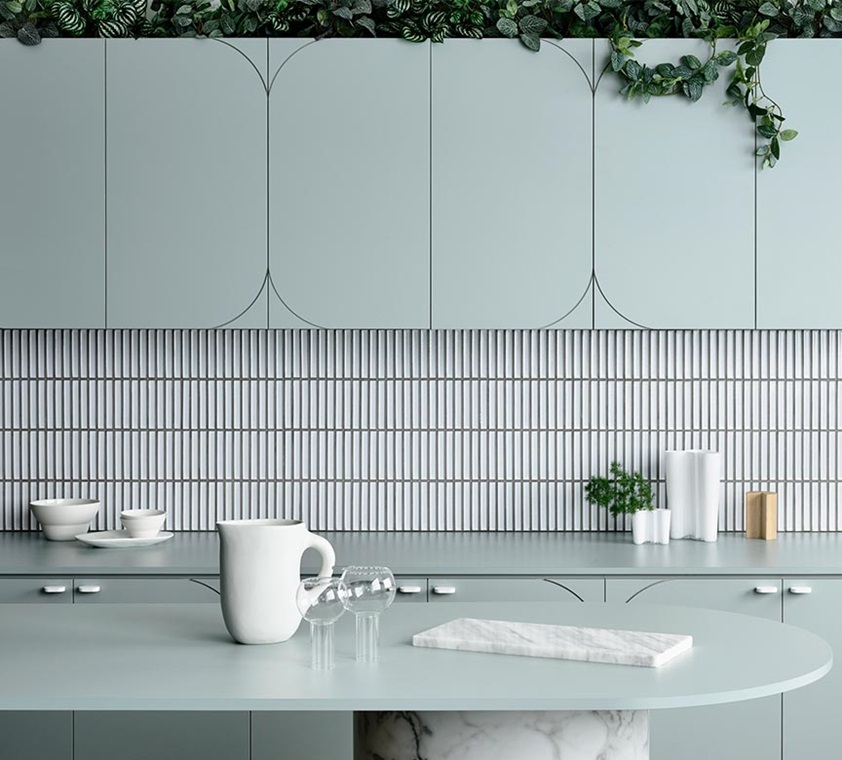 Curved shapes and calming colours
The marble-look decor sits amongst quite a restrained colour palette. "We talk a lot about calming interiors at the moment," Leech explains, "and curves used alongside quiet, gentle tones will create a visually soothing space." Here, we see this in the use of soft, organic green Laminex Spinifex. It's applied to the island benchtop, which has a beautifully rounded shape, as well as the rear benchtop and cabinetry doors, the latter showing a different way to make curved shapes with laminate, via elegant routered detailing.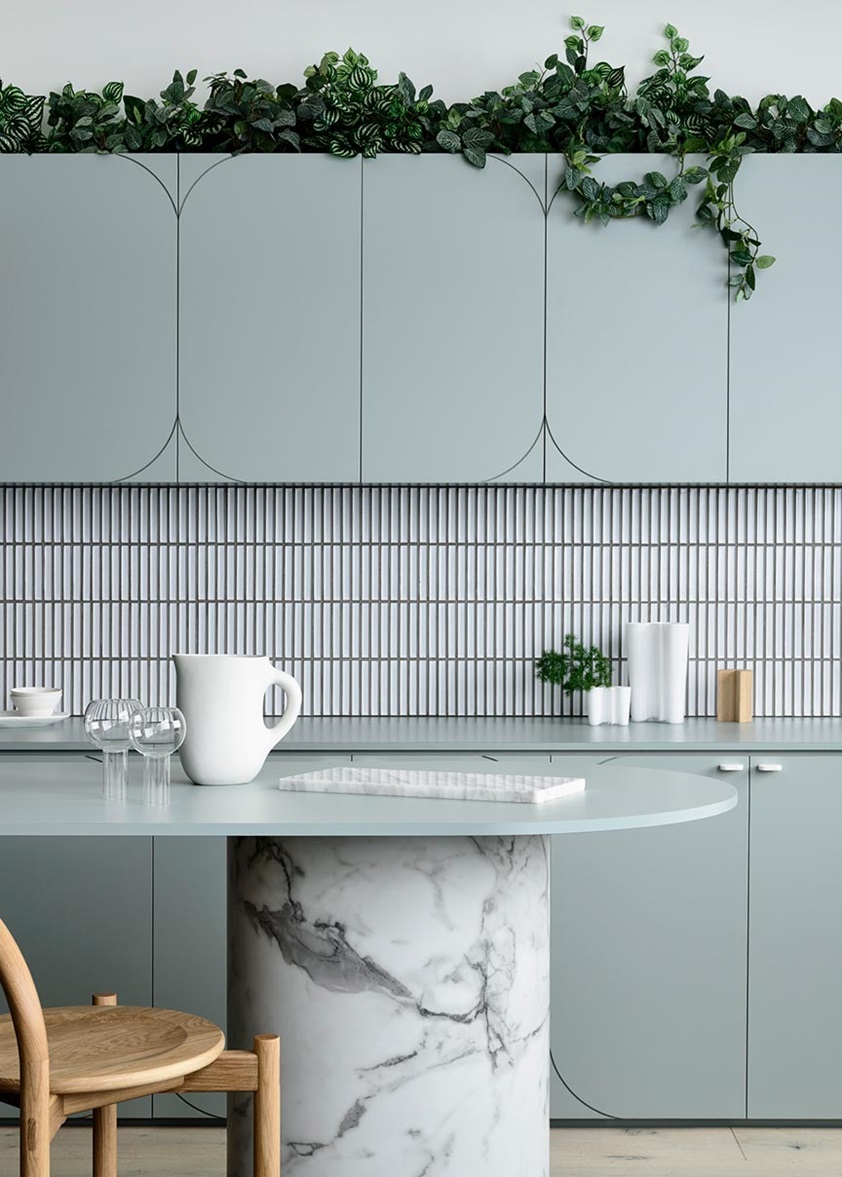 Chris Connell's sophisticated kitchen
Another recent project that celebrates these same properties of laminate is the kitchen created by renowned Melbourne designer Chris Connell for Laminex. Connell's kitchen is centred around a benchtop in Laminex Crema Venato that sits atop a base clad in Copper Brush, both elements rounded off with a tight radius at each corner. And while the colour palette in this project is quite different to Leech's, the addition of curved edges in the two Laminex decors has a similar effect of making the space feel more organic and welcoming.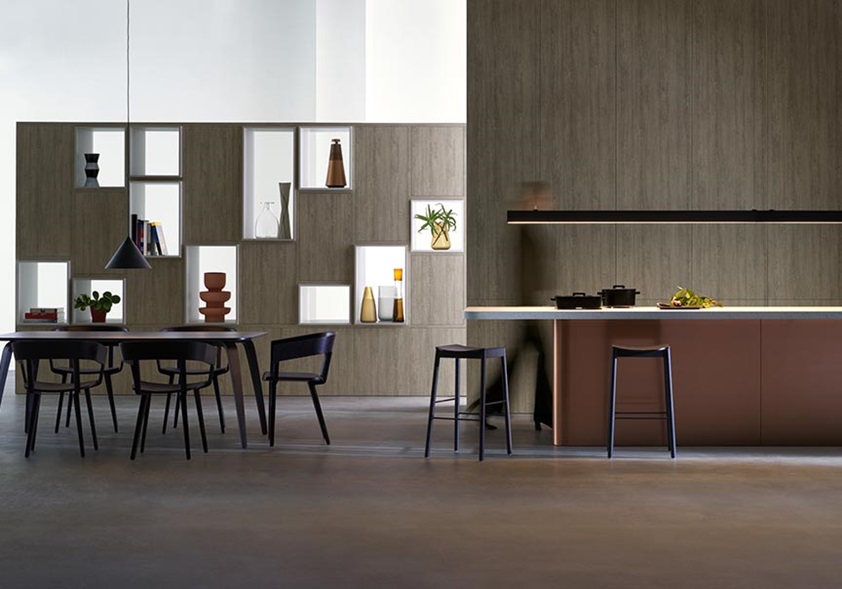 How to create curves with laminate
According to Laminex National Technical Applications Manager Peter Harrison, the key to bringing any design, curved or otherwise, to reality is to understand and work with the product's properties, and not try to force the material to bend to your will. To demonstrate this, he often asks design students to roll up a piece of paper and then try to bend that tube into a curve. "It's a great way to show how laminate can't bend in two directions," he says.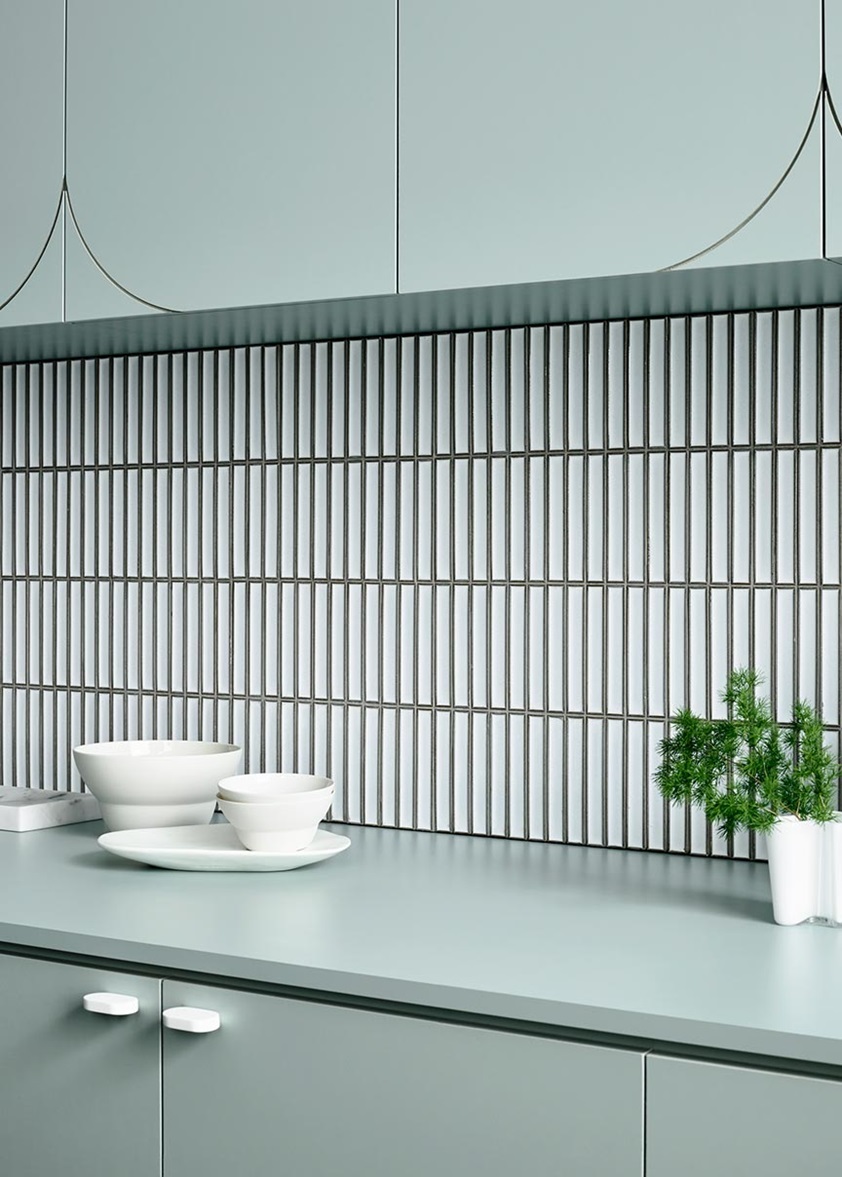 Rather than being a barrier to the desired outcome, this technical knowledge can elevate a design even further. Much of the success of Leech and Connell's designs comes from the way they've worked with the intrinsic qualities of the Laminex product. In Connell's design, the way the metallic decor wraps around the internal structure of the island bench, maximising the potential for reflections and light play. In Leech's, using a similar approach to create what is apparently a marble column, but without the environmental, health and financial cost. And then, using routing to continue the curved theme in a two-dimensional surface, exposing the substrate and bringing that into the design too.
Combined with the more traditional approach of bonding laminate and matching edging to a curved benchtop, all of these applications show how well suited laminate is to delivering designs with curved and organic shapes. If the indications from Milan were correct, it's something we'll only be seeing more of in 2020.
To see more decors perfectly suited to creating curved designs, you can explore the Laminex Colour Collection here.
You might also be interested in these articles