Thanks to her deft touch with materials and furnishings, interior designer Josie Simpson has given Cloud Parade an interior worthy of its spectacular Blue Mountains outlook.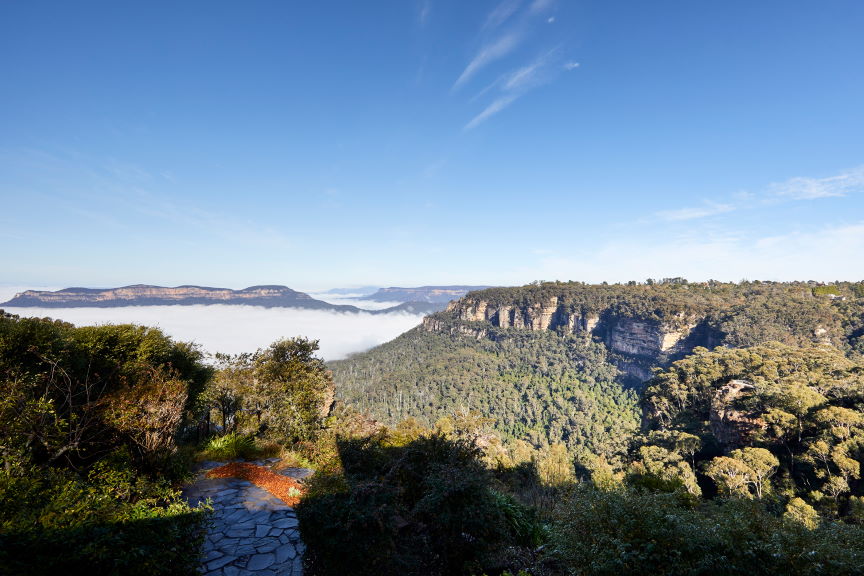 How do you design a beautiful interior that doesn't distract from a magnificent view? That was the challenge for interior designer Josie Simpson, founder of Altus Design Studio and owner of Cloud Parade, a holiday home in the Blue Mountains with an extraordinary outlook that takes in mountaintops, escarpments and yes, often enough, the tops of low-lying clouds. Her response achieves a deft balance between comfort and style, with a neutral palette enlivened by splashes of colour on furniture, soft furnishings and art, and a welcoming series of communal spaces anchored by a striking black kitchen.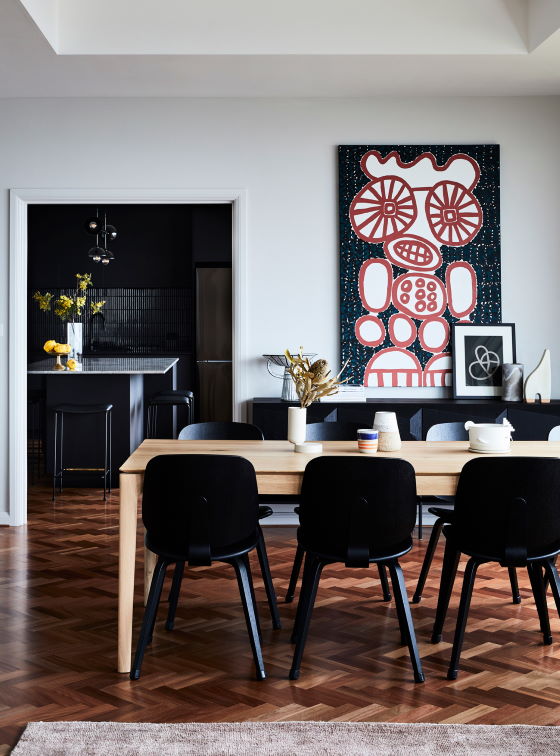 "It had to be a communal, social kitchen; a place to have a glass of wine and chat with friends or family while getting dinner ready."
Josie Simpson – interior designer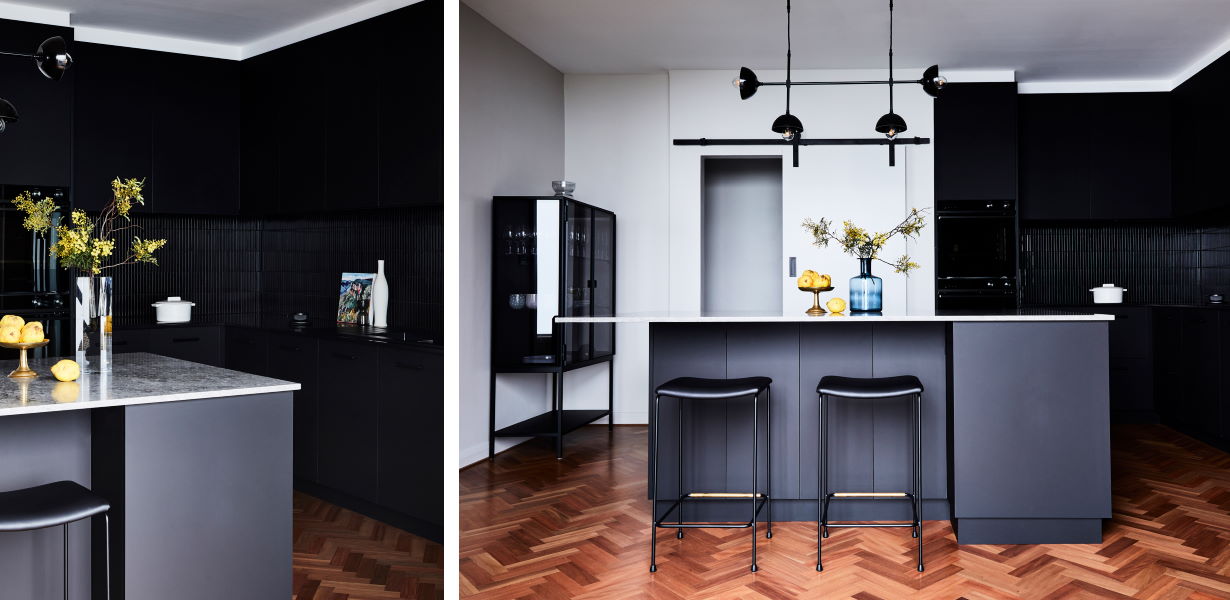 The original brick house was dated and in need of maintenance when Josie and her husband bought it. But it had the view, of course, and also some wonderfully ornate parquetry floors. Simpson's desire to hero these two features was influential in the design of the kitchen, and particularly the choice of black as the dominant colour. "I didn't want it to compete with the view and I love the combination of black with parquetry flooring," Simpson says. "It's beautiful, elegant and timeless, yet modern." She also didn't feel a white kitchen was appropriate for the high-altitude setting. "It's cold in the mountains and you want a cosy and cocooning space," she explains.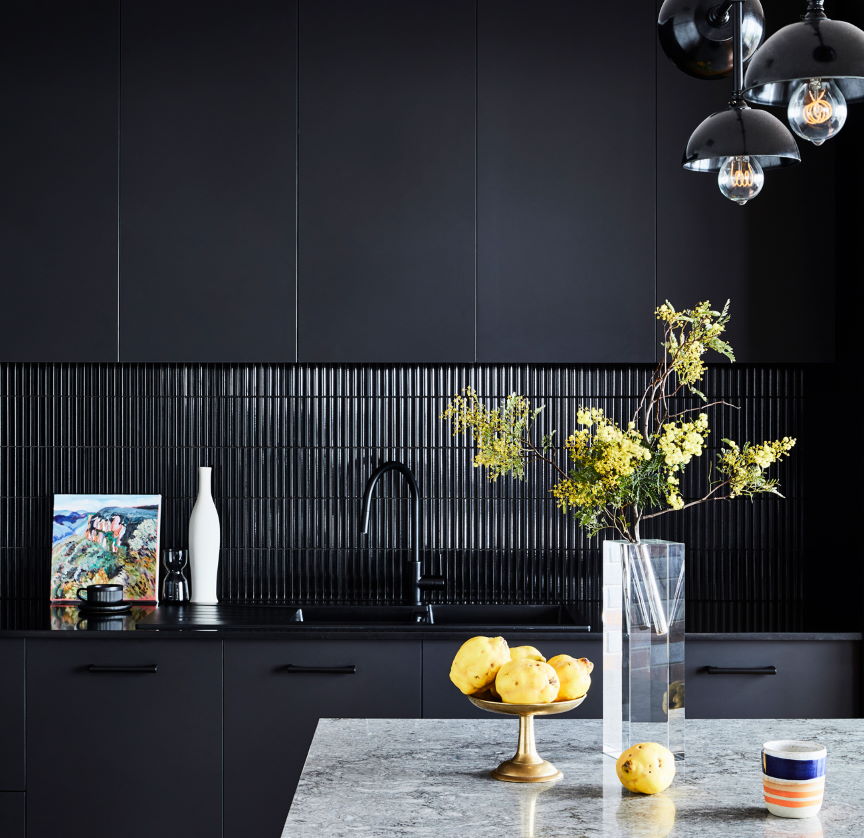 Cabinetry in Laminex AbsoluteMatte Black wraps around the walls, with benchtops in Essastone Lava Black Gloss and splashbacks in vertically laid black Inax Yuki Border glazed ceramic tiles. It's a compelling combination, with the visually soft ultra-matte cabinetry, subtly colour-flecked benchtops and high-gloss tiles creating a play of light and texture that shifts from hour to hour during the day. With the hardwearing performance and fingerprint resistance of AbsoluteMatte, and the durability of Essastone, these material selections also make perfect sense for a holiday house in high demand on the rental market.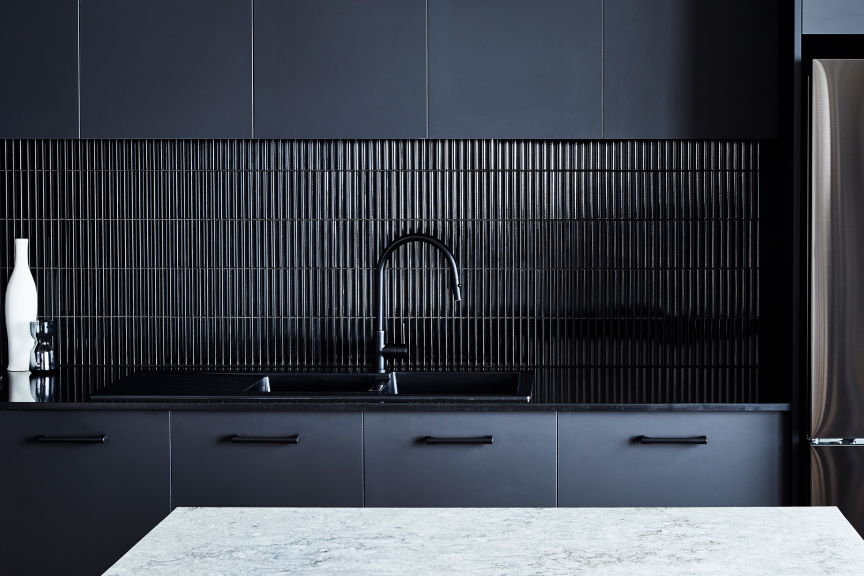 "Essastone Lava Black strikes a nice balance of just a little bit of interest without being too busy."
Josie Simpson – interior designer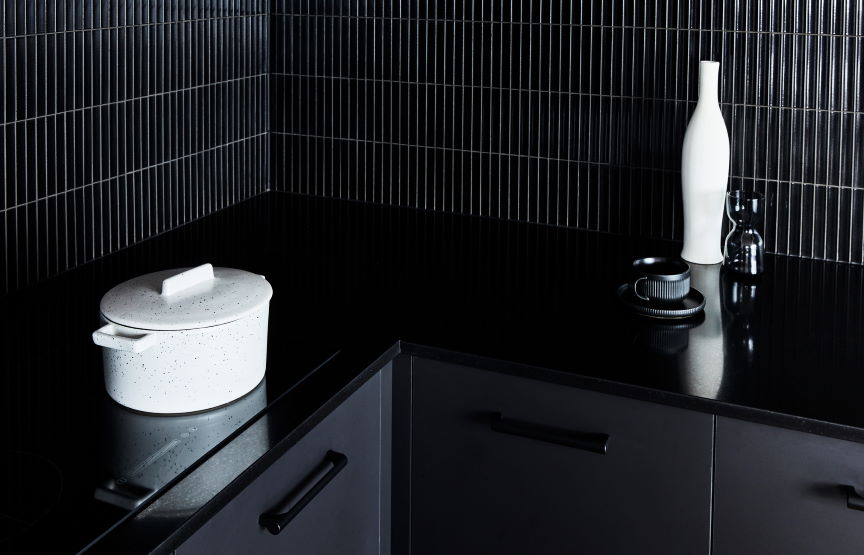 A large island bench at the centre of the space was crafted with a grey engineered stone top, but everything else in the kitchen – including Fisher & Paykel appliances, Castella Terrace cabinetry handles, Brodware City Stik tapware and a granite sink from Schock Sinks – was specified in black. This theme continues with key elements elsewhere in the house, including black timber furniture in the living and dining room, and black vanities in the bathrooms. Describing her approach, Simpson says, "Black adds a sense of drama and provides a beautiful backdrop without being plain or boring." And we can't help but agree, because "plain" and "boring" aren't two words we'd ever use to describe this wonderful place!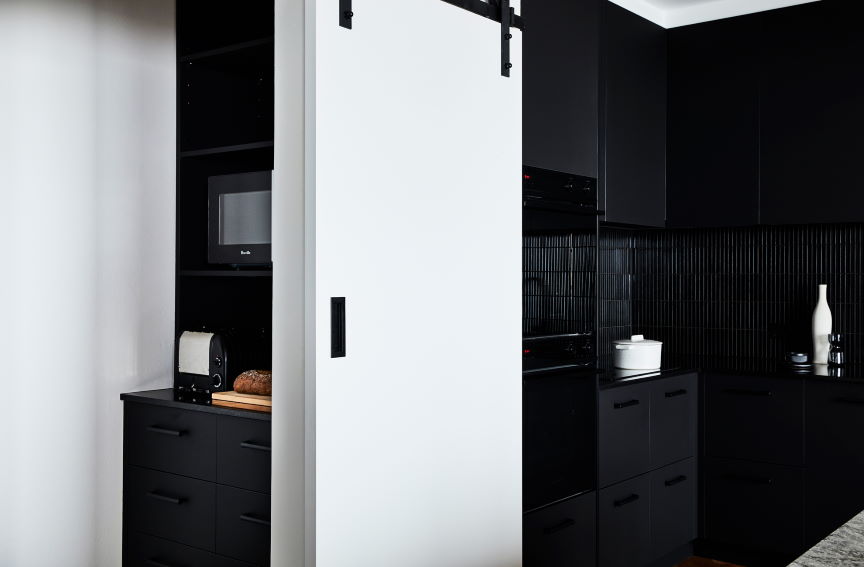 Contributors
Design: Altus Design Studio
Builder: Kounga Projects
Cabinet Maker: Homestyle Kitchens
Photography: Nic Gossage
Photography Stylist: Jono Fleming