Using CJH Studio's tips and advice to design, you'll be able to build and style your way into a minimalist wonderland.
A base that functions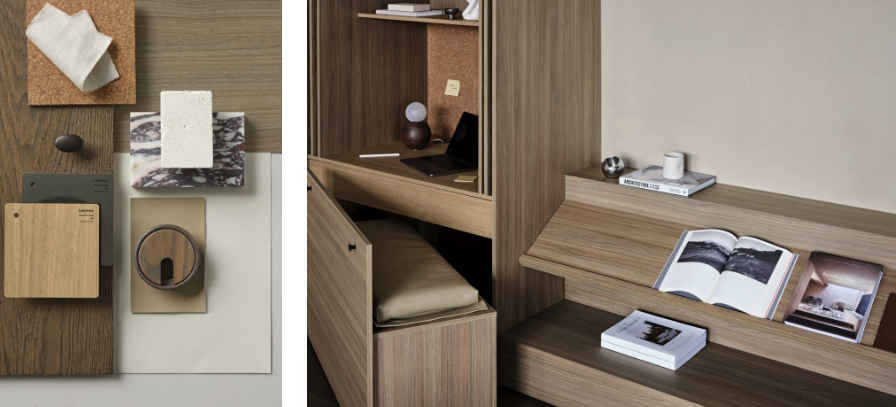 Looking into CJH Studio's living room for Laminex, Cassie James-Herrick's considered touch goes further than the sculptural shapes and beautiful bespoke cabinetry she is known for. While the room is allowed to breathe and be lived in – one of her key rules - her exquisite eye for detail permeates every aspect of the space.
Small pragmatic features like the Linear Standard handles in bronze highlight the access to the hidden study bench, yet are subtle enough to sustain the secret, vanishing act it performs into the warm woodgrain of the unit when not in use. The characteristic warmth is repeated in the Ceramic Brown wall lights from Vaulker Haug reaffirming the idea that minimalist design is not about being empty but creating interest and a base to work with.
"It's important that the base functions, that everything has a home, but life happens, and people and personalities will come in."
Riffing on the cabinetry, Concept Oak floorboards from Tomah Floorboards (National Tiles) the rug (Weave Home), curtain (Warwick Haven in Natural) and paint (Haymes Artisan Surface) all create a space that adheres to James-Herrick's signature sense of balance.
"Find balance in your textures. Soft furnishings can add a whole new layer to your space, soft layers balance the hard finishes," says James-Herrick, using the boucle fabric on a chair by Jardan in direct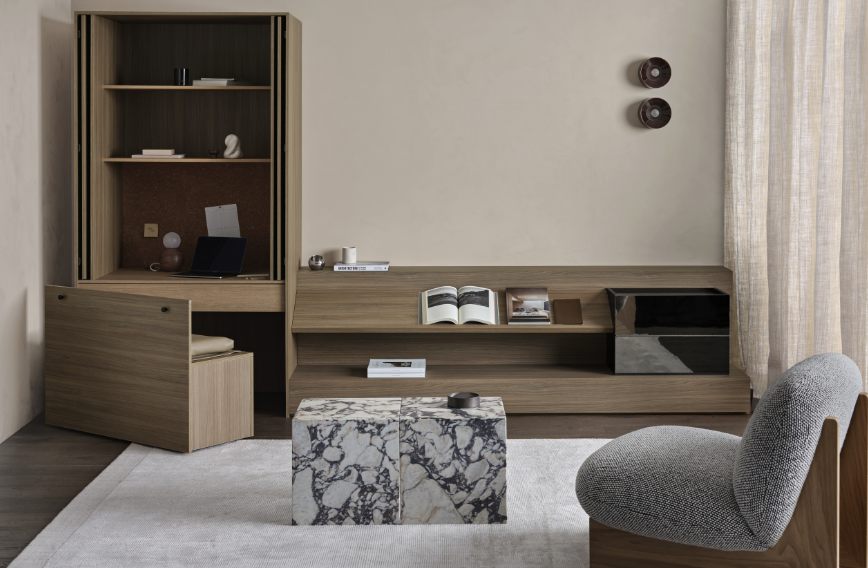 ---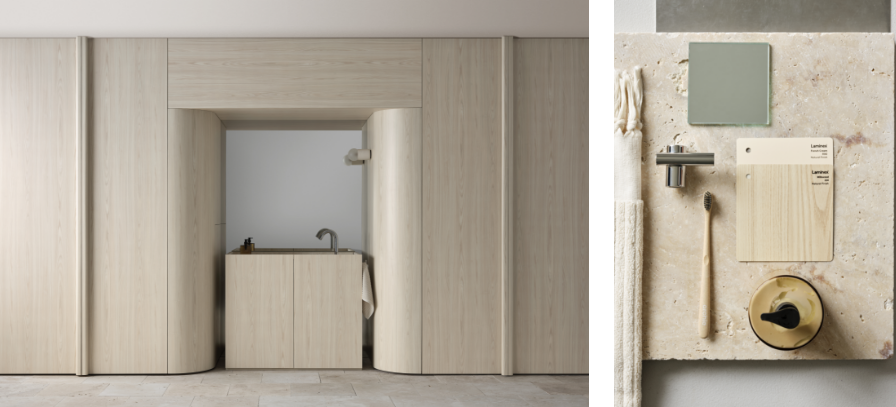 Cassie James-Herrick sees as much room for play in the bathroom/laundry as any. The full height doors and expressive curves that lead to the basin are testament to that; functional needs not stripping the aesthetic desires.
Never immediately obvious, the play with joinery is evident in hidden shelves and storage in the door to the left of the Oliveri sink and sensor tap, running extra deep to make sure there's plenty of room for your bathroom bottles and supplies.
A custom travertine benchtop and travertine floor tiles (both from National Tiles) introduce new textures, but keep the palette on point, not forgetting its place alongside Laminex Milkwood and the need for practical solutions in a wet room.
Throughout each space CJH Studio has placed their in-house brand of architectural wares, Linear Standard, where handles, hooks and small fixtures were required. In the bathroom a hand towel by Loom hangs from their Pillar hook for quick access and visual consistency.
"We used as many Australian and New Zealand designers as we could," says James-Herrick.
In fact, everything used to style is Australian, the Fisher & Paykel washing machine no different. "Using local designers supports Australian brands and businesses but will also aide in the beauty of your house. Think locally."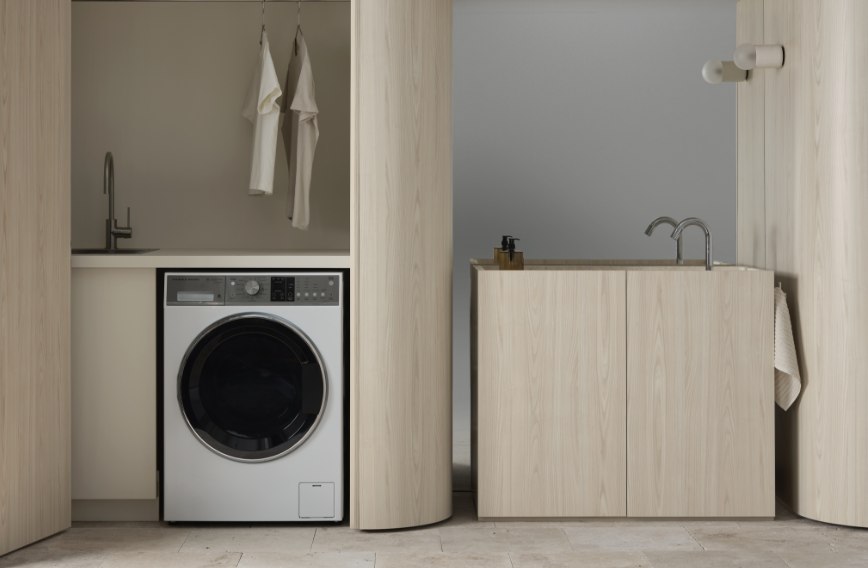 ---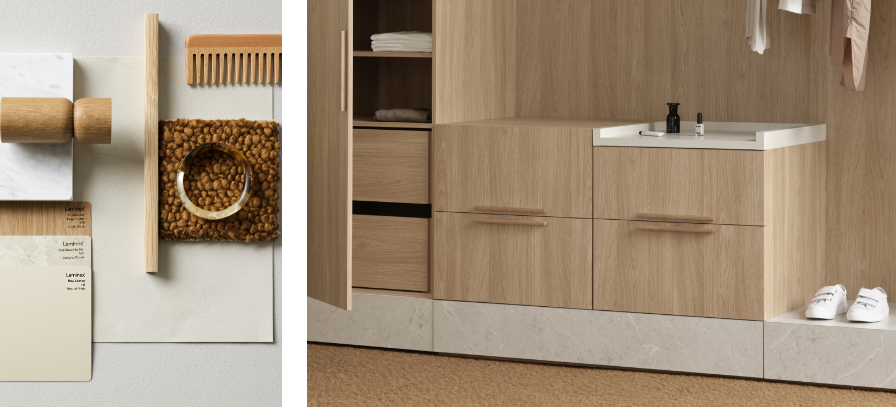 CJH Studio designed a unique and wonderfully open wardrobe and if there is anywhere in this collaboration to insert your personality this is it.
CJH Studio continue their use of Linear Standard fixtures, maintaining continuity with their line of handles, hooks, and cable outlets. The oak handles used on the wardrobe's collection of drawers add an extra layer of detail to the cabinetry, already clad in Laminex Elegant Oak.
As the flooring equivalent of the wardrobe itself, the chunky loop pile of the New Zealand wool carpet from Bremworth is comforting, welcoming and open. It softens the edges, enveloping the room, asking you to go barefoot and relax. A great addition to the room, it is a moment to reflect on all surfaces when designing a space.
No hard edges here, CJH Studio's decision to use the chair by Fomu & District and light from Ross Gardam were chosen for their soft palettes and curves, to complement the studio's approach to living and as a bedroom to live in.
James-Herricks reminds that "it doesn't matter the size of your room, know your parameters and use them to influence your design."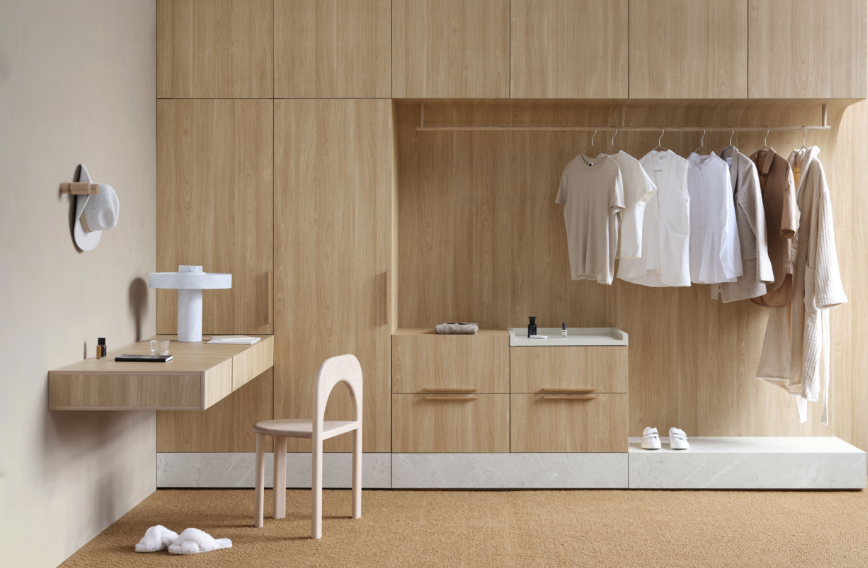 ---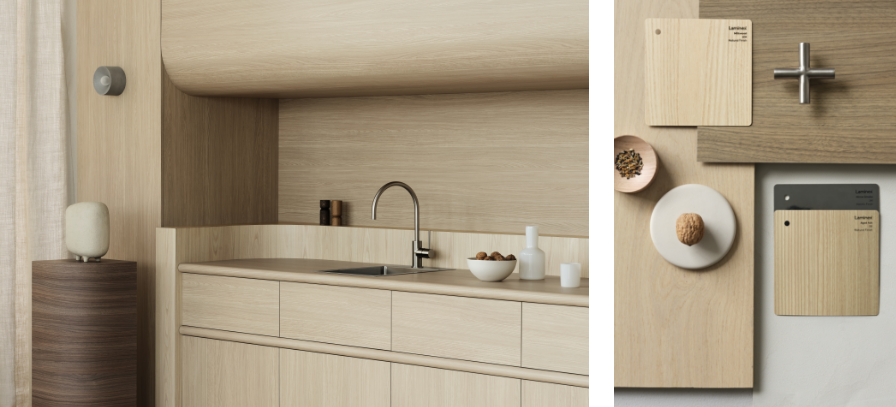 Of course, there are always practical considerations to be made when it comes to designing a home. Fridges, ovens, and washing machines will all need to find their place, but how you incorporate them will add depth and style to your space. Range hoods can be hidden, fridges concealed, sinks and tapware can add pops of surprising colour and interesting materiality, but as James-Herricks explains, sometimes details can be played with.
"A few metals purposefully contrast, and I liked using them in a different way, to see how far I could push them."
A small wall sconce from Volker Haug in aluminium exemplifies this, its gentle contrast lifts the Laminex Aged Ash cabinetry. The warm white sculpture from Buzby & Fango sitting atop the Laminex Danish Walnut plinth pulls off a similar effect creating balance where an optical white may feel out of place.
In the kitchen, Concept Oak floorboards from National Tiles repeat the textural qualities of the space, making it feel modern and minimalist while ticking the box on suitability and practicality. It's something the studio repeats again and again. "Create your space to work. What does it need to work?" asks James-Herrick, "what is its functionality, what does it need to serve, what does it need to store?" The answers to these questions need not have boring, clinical solutions and as CJH Studio have demonstrated, curves like the rangehood panel and splashback-shroud add interest with bespoke feelings of quality. With strong foundations established, personal tastes and styles can be welcomed as the years pass.
"Add your personal touches, let it evolve [because] it will evolve over time."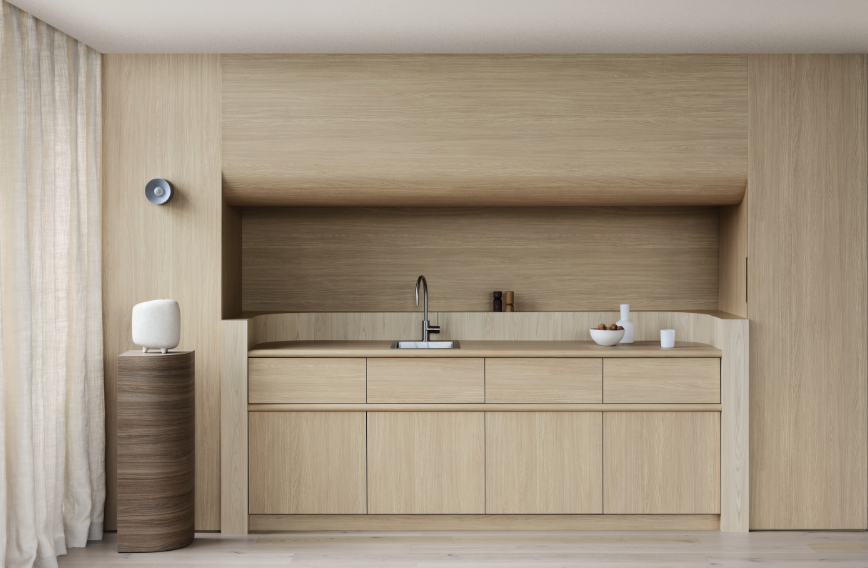 ---
Contributors
Design: CJH Studio for Laminex
Styling: Bek Sheppard
Photography: James Geer
Featured in these designs
Kitchen
Laminex Aged Ash, Chalk finish – Cabinetry and Benchtop
Laminex Milkwood – Splashback and Drawer Interiors
Laminex Danish Walnut, Chalk finish – Plinth and Pantry Interior (Shelves)
Laminex Mirror Smoke – Pantry Interior (Back Panel)
Wardrobe
Laminex Elegant Oak, Chalk & Natural finish – Cabinetry
Laminex Catalana Marble – Bottom Drawers
Laminex Raw Cotton – Dressing Station and Tray
Living
Laminex Danish Walnut, Chalk finish – Cabinetry
Laminex Sublime Teak, Chalk finish – Desk Joinery
Laminex Mirror Smoke – Bar Joinery
Bathroom
Laminex Milkwood – Joinery
Laminex French Cream – Laundry Joinery