Capture the authentic look of classic Calacatta marble with the hardwearing performance of engineered stone.
Calacatta marble is one of the classic, luxurious natural stones, seen everywhere from high-end kitchens and bathrooms to luxury hotels. But natural marble is very expensive, and without a lot of care and hard work, it can quickly lose its beautiful appearance. Engineered stone is much more affordable and robust, however previous attempts to recreate the look of this dramatically veined marble have fallen short. With Essastone Unique Calacatta, the benefits of both materials – the beautiful veining detail of Calacatta, and the cost-effective, hardwearing performance of engineered stone – finally come together in one surface material.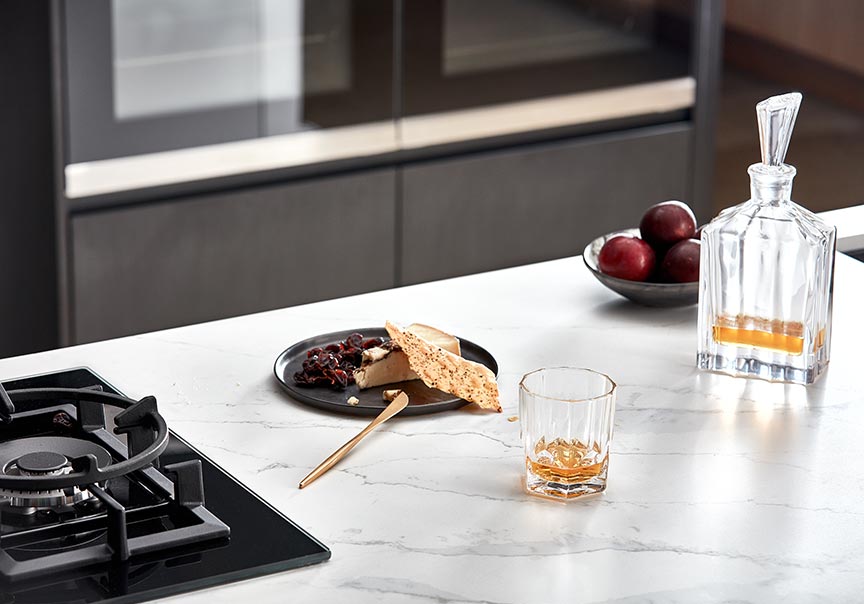 Unique Calacatta is crafted in Portugal from up to 95 per cent natural quartz and can be specified either Honed (matte) or Gloss finish. "It has a crisp white base, scored by deep, grey mineral-veins," says Laminex Design Consultant Catherine Valente. "Its durability and stunning pattern detail make it the perfect choice for all interior styles, especially contemporary and classic themes."
Even better than real marble
It might seem like a bold claim, but there are many reasons why Unique Calacatta is even better than it's real-marble inspiration. Cost is one – the price of Calacatta marble puts it out of consideration for many residential and commercial projects. Then there's the performance of the two materials. Natural marble is soft and porous so can easily be stained and scratched. In particular, Calacatta marble's white background means that these marks can be very noticeable.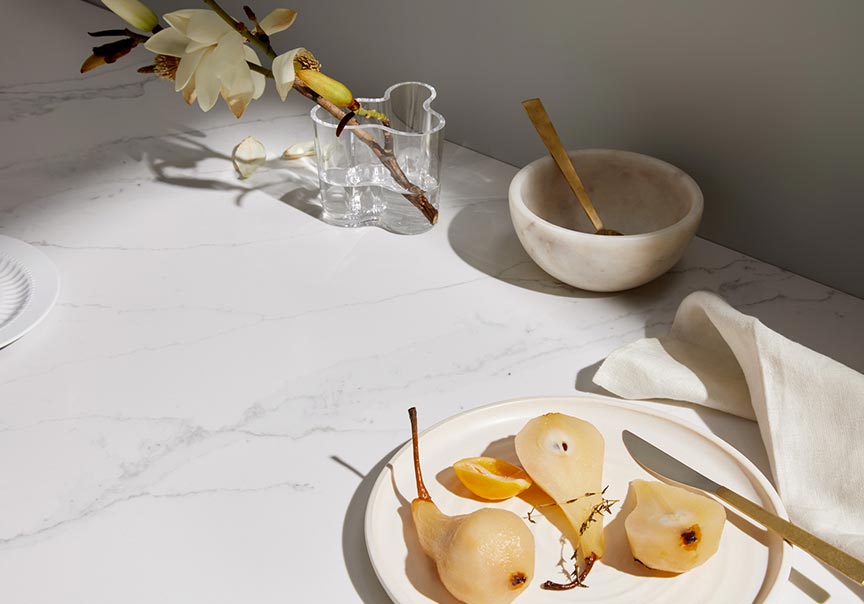 By contrast, Essastone engineered stone is stain and scratch resistant, and nonporous, so it doesn't require sealing like marble does. It also offers a more consistent appearance than natural stone, so there's no risk of being surprised on site by a slab with a veining pattern or detail that doesn't work within a given design.
Jumbo slab size for seamless design applications
Another feature of Essastone Unique Calacatta that gives it an edge over similar products is the jumbo slab sizes it's available in, up to 3,250mm x 1,600mm. This makes it perfect for applications such as monolithic island benches and counters, and large-format wall panelling.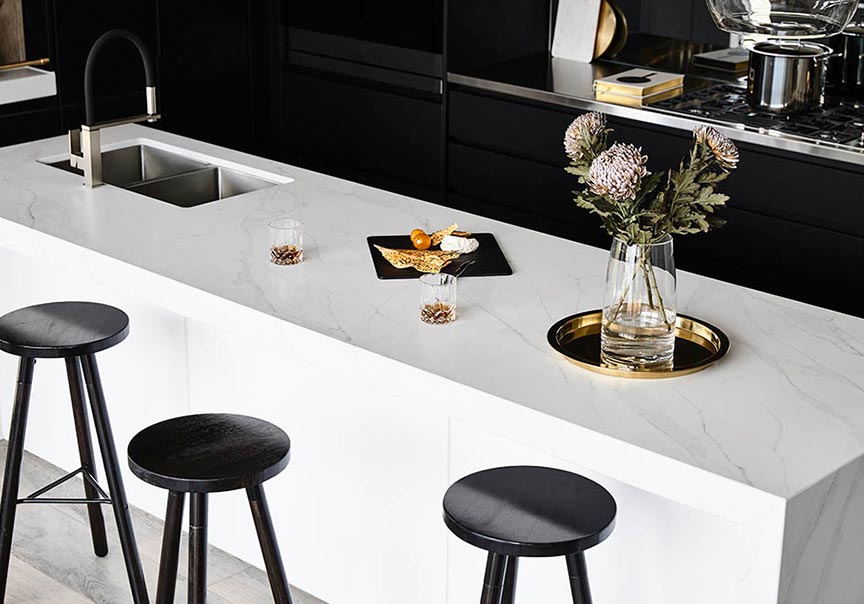 When used in a vertical orientation, such as on the walls of an ensuite, the slab size means that the appearance of grout lines can be limited, to achieve a seamless design with a strong sense of luxury. Other possible applications include fireplace surrounds, living room shelving plinths, coffee tables, side tables and desks.
In each case, it's the ability to achieve ultra-realistic marble look of Calacatta marble, but without the cost or ongoing maintenance requirements, that make Essastone Unique Calacatta so appealing to designers.
Essastone Unique Calacatta is available to order now. To request a sample, click here.