The Takeawei Ceramics founder designed a new addition to the coastal home she shares with her daughter, and in many ways, their life now imitates her art
Chela Edmunds, founder of Takeawei Ceramics, produces handcrafted ceramic lighting, tableware and objects that are as fun as they are functional. Part of the fun comes from Edmunds' playfulness with form – in doughnut-shaped vases, for example, and a collection of jewel boxes and vases titled Boob, for reasons that become clear when you see them – but it's driven largely by her distinctive and delicious use of colour. And this plays out to beautiful effect in the new addition she designed for the home at Jan Juc, on Victoria's Surf Coast, that she shares with her young daughter, Ocean.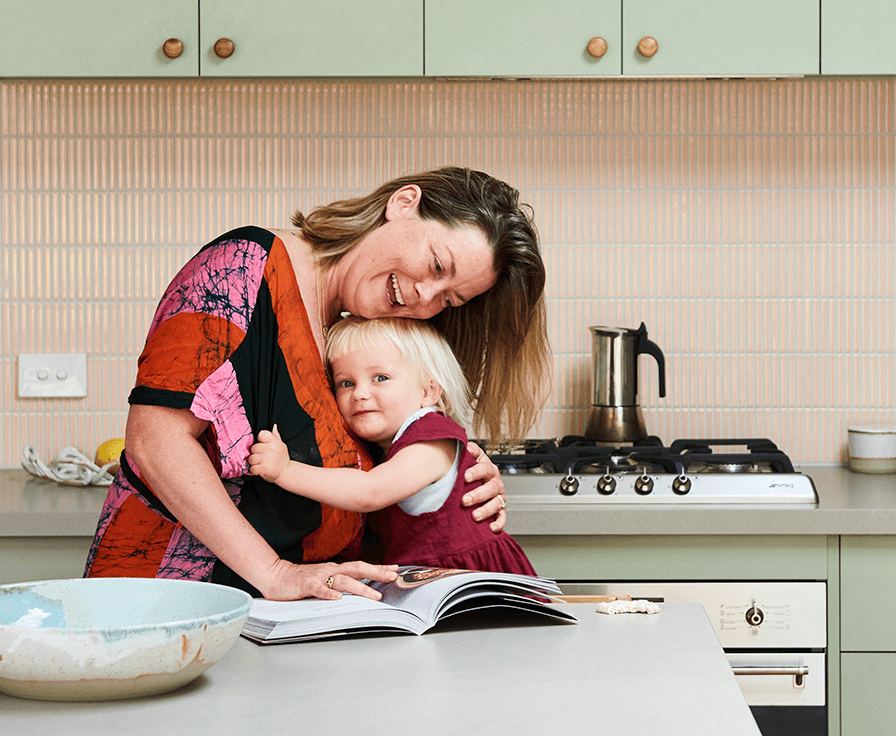 "The kitchen was the priority. Being able to access the backyard and to have more space, because I have a toddler now."
Chela Edmunds – founder of Takeawei Ceramics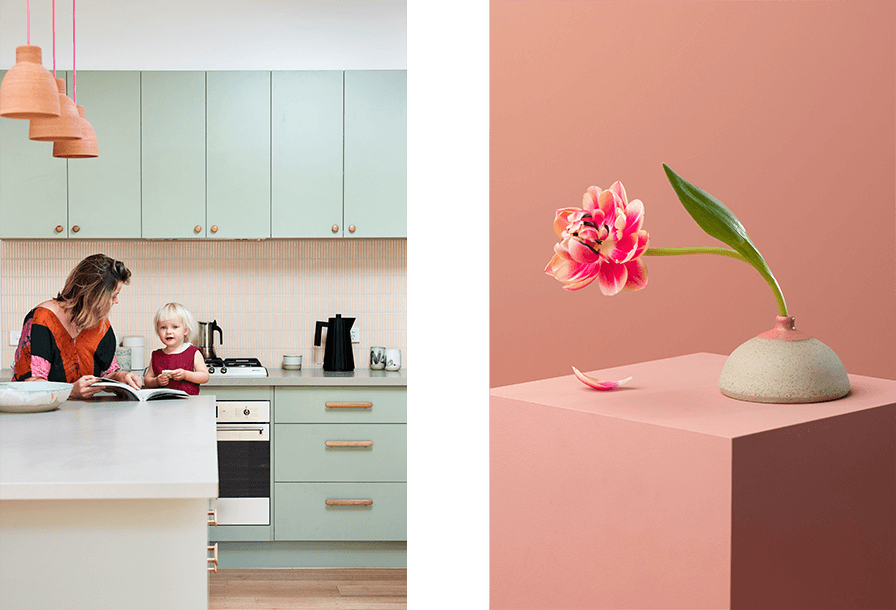 Edmunds worked with the assistance of a builder, draftsperson and cabinetmakers Create From Concepts, and a key objective was to deliver a simple and functional kitchen with more storage, more space and a better connection to the backyard. The new kitchen remains within the home's original footprint, but removing a wall and adding an island bench has opened up the space and allows for surveillance across the room. "Now we can go from the kitchen to dining room to backyard, and I keep an eye on my little girl while she's playing," Edmunds explains.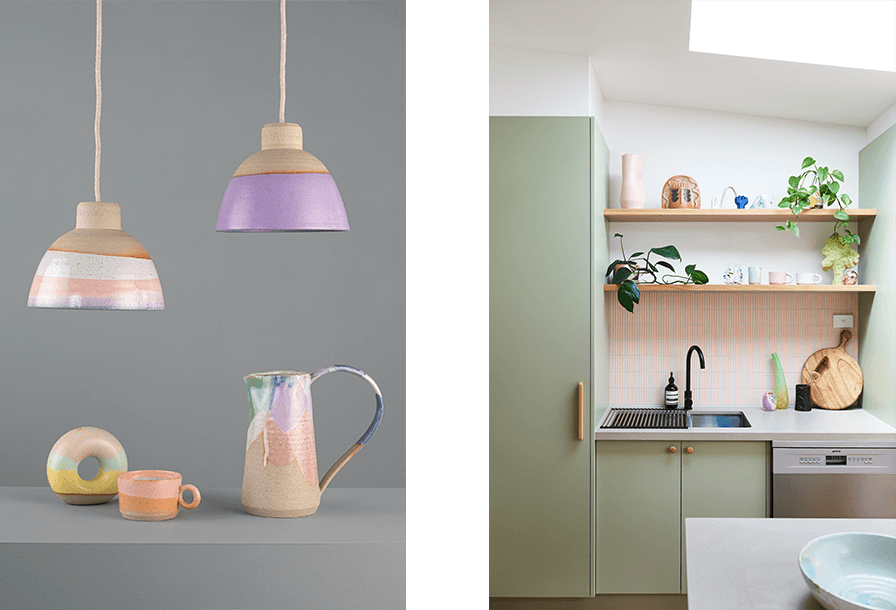 The ceramicist's unique way with colour is expressed through objects, artworks and furniture, and naturally, a selection of her own ceramics. A whimsical palette of pink and green permeates the entire home, but this wasn't conceived in any formal way. "I wasn't planning a colour palette," she explains, "but I seem to have a lot of pink and green throughout my house and I wanted a palette that worked with my pieces and didn't become too colourful." In the kitchen, this takes the form of cabinetry crafted from organic grey-green Laminex Bayleaf and a splashback of marshmallow-pink tiles. They're teamed with timber handles and shelving, concrete-look benchtops and a row of Takeawei Terracotta Raw pendant lights, which add tactility and create a pleasing interplay between natural and manufactured materials. "I love that contrast," Edmunds says. "The smooth, clean look of Laminex with the texture and warmth of terracotta and timber."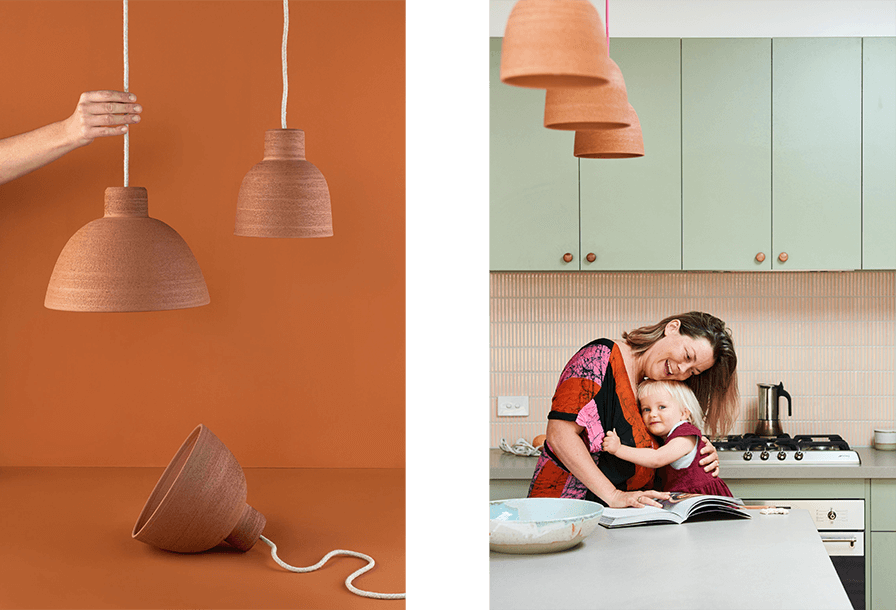 Choosing Laminex laminates for the vertical kitchen surfaces also came down to their durability and ease of maintenance. "Having a toddler, I wanted something I could wipe down quickly," she says. And in between running a successful business and creating ceramics, less time spent cleaning means more time for Edmunds and her daughter to enjoy their delightful new surrounds!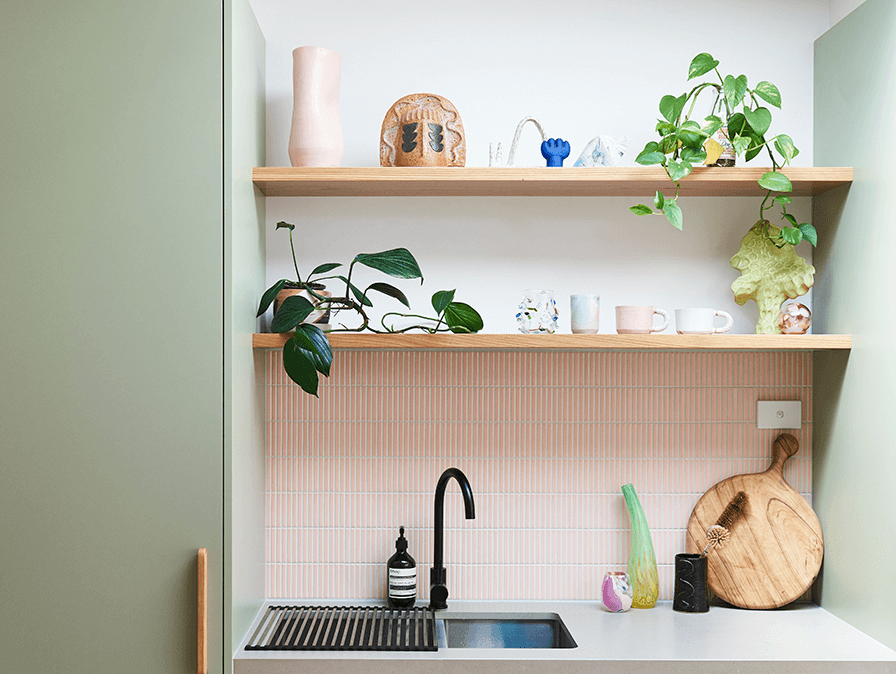 Contributors:
Homeowner & founder of Takeawei Ceramics: Chela Edmunds
Builder: Stewart Build Co
Cabinet Maker: Create from Concepts
Photography: Nikole Ramsay