Laminate is the perfect material for crafting one of these stunning pieces of kitchen furniture. Here are some ideas for how to do it.
"Picture a whole block of Carrara marble versus a 600mm-wide benchtop slab," says Laminex Product Design Manager Neil Sookee. "It can have a huge impact when an island bench is designed to create the impression of a large, single piece of material." Of course, using marble like this is only feasible in a small proportion of Australian homes, but a similarly stunning effect can be achieved with laminate. Here, Sookee and Laminex National Technical Applications Manager Peter Harrison provide guidance on how it can be done.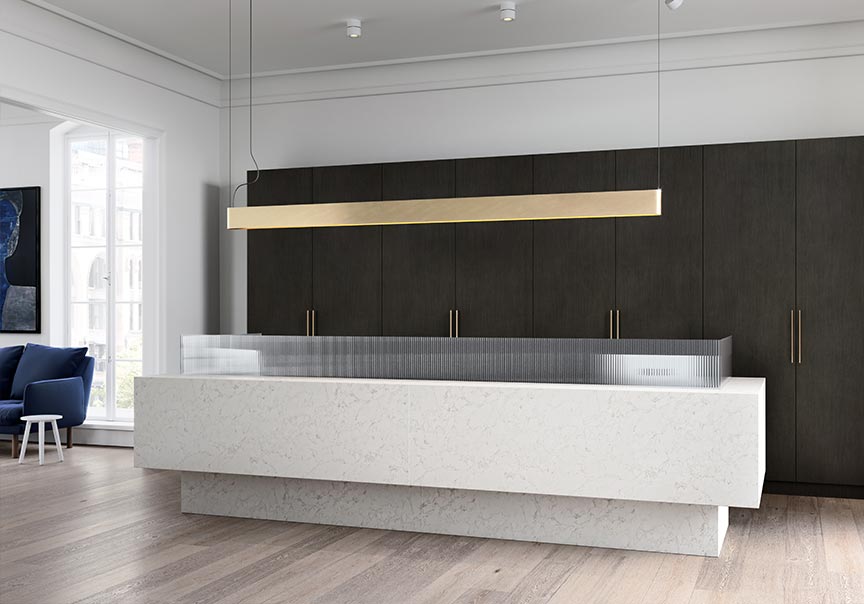 The authentic look of marble and stone, with superior design flexibility
Marble and natural stone are the classic options for a single-material island bench, and the stunning authenticity of the Laminex Minerals range means that their look can be achieved at a fraction of the cost, with all of the performance benefits of high-quality laminate.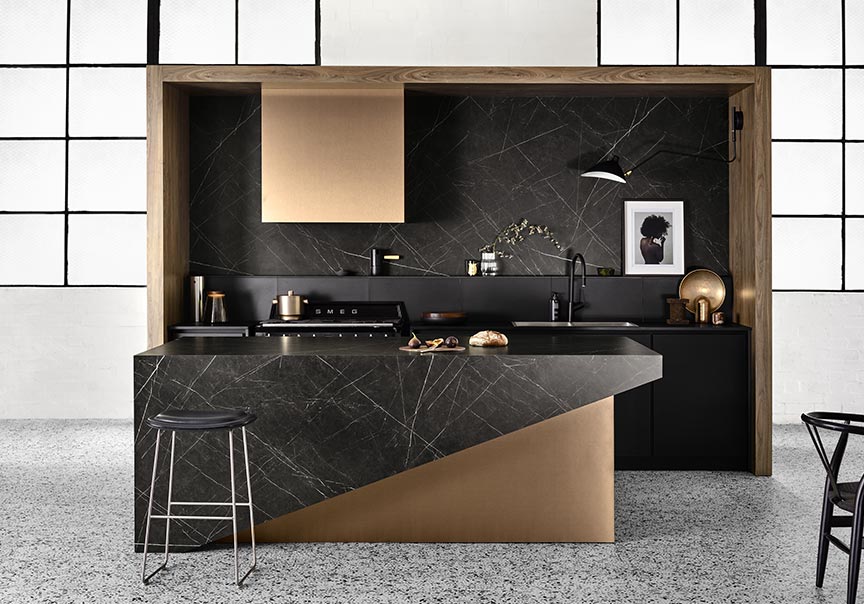 Laminate's fine profile and innate flexibility give it an additional advantage whenever designers want to create island benches with organic shapes or dramatic angles. As Sookee says, "Try as you might, you just can't bend stone or concrete!" The superior workability of laminate makes the entire process of design and fabrication simpler, as he illustrates by comparing a curved bench made from laminate bonded to bendable Laminex Craftform MDF with the marble equivalent. "To achieve the same look using real marble you'd have to machine a solid block," he says, "which would create a lot of waste, not to mention being hideously expensive and very heavy." The marble handling and processing would come with a range of occupational health and safety concerns to be managed too.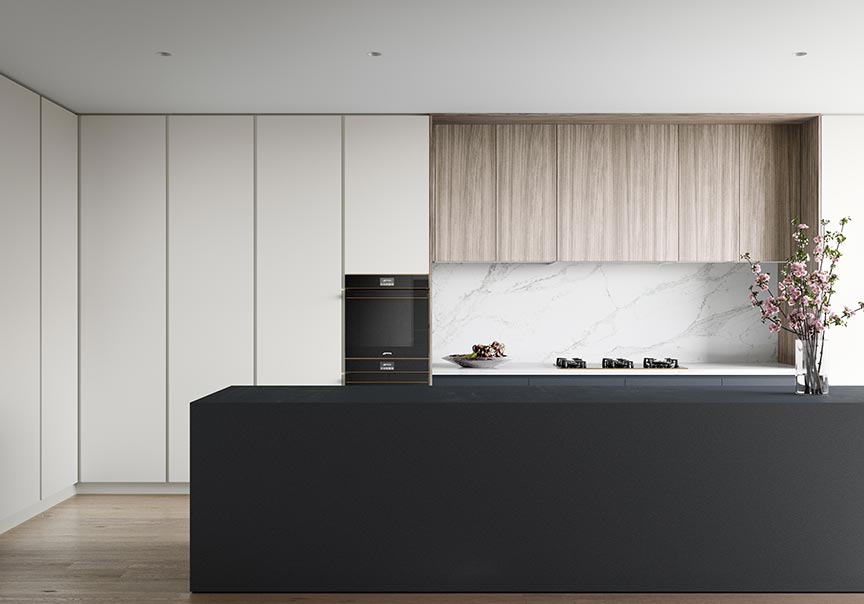 "Monolithic cabinetry made in this way tends to be hand-laminated using a spray contact adhesive," Harrison adds, so he recommends specifying matte or low-gloss finishes such as Laminex Impressions Chalk finish, to disguise any slight undulations in the chosen substrate. He also recommends judicious choice of decor. Laminex Basalt's all over pattern and darker tones, for example, are perfect for creating the impression of a solid, sculpted form.
Exploring different design styles
But the monolithic island bench isn't limited to just marble and stone – woodgrains can bring a compelling textural dimension of their own, particularly in Scandinavian or industrial schemes. When specifying Laminex Woodgrains decors, Harrison recommends Impressions Chalk finish for vertical faces to emphasise the natural look of the woodgrain, with benchtops in Natural finish, which is ideal for kitchen work surfaces.

And then there are the many solid colours in the Laminex Colour Collection, including rich neutrals perfect for block colour designs and darker decors that support the movement towards darker kitchens. "AbsoluteMatte Black is an excellent and very contemporary example," says Sookee. "It has all those qualities that laminate material brings, it can be formed and wrapped, and its inky black ultra-matte surface can give a very homogeneous, monolithic look."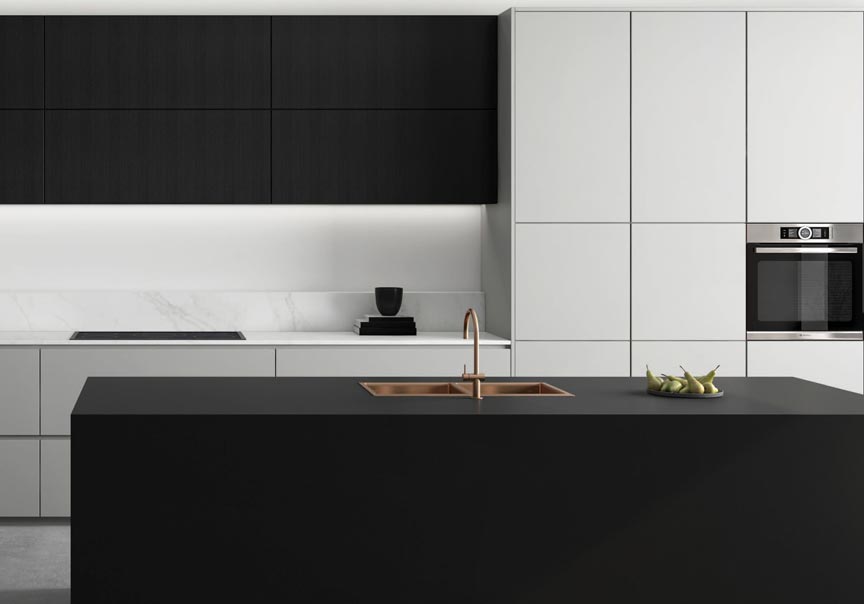 Applying texture and pattern at scale
Thinking about broader trends in interior design, the movement towards using singular textures or patterns across large surface areas can easily be extended to a monolithic island bench, thanks to the large sheet sizes offered by Laminex. "With the right pattern it can look absolutely stunning," Sookee notes. A key consideration is achieving tight joins where different sheets and planes intersect. "It's important to order the surface application to ensure that the most visible face presents with the fewest interruptions, or none, if possible," says Harrison.
And then he adds one final piece of advice, which applies no matter which decor is being used: pay attention to the floor junction. "Floors are rarely flat. If you had a true monolith, there's no way of levelling that," he explains. In place of a standard plinth, he suggests a 10mm shadow-line that will make the monolith appear to float over the floor surface. Making a massive block of marble float? That really is a design statement!