Interior designer Bree Leech shares her favourite strategies for creating sleek white kitchens that really sing.
White has become Australia's go-to kitchen colour and it's particularly popular in minimalist design treatments. But while it might seem simple to create a kitchen in a single colour, a significant degree of design nuance is required to ensure that a sleek white kitchen doesn't appear one dimensional and characterless. Melbourne-based interior designer Bree Leech recently designed just such a kitchen using decors from the Laminex Colour Collection, so we spoke to her to gain some insight into her approach.
Playing with texture
Textural surfaces add an extra dimension to a minimalist white space. The cabinetry in Leech's kitchen is in Laminex Chalk White but this is paired with a benchtop and rear wall panelling in concrete-look Laminex Elemental Ash. "Concrete provides visual texture and relief from all-white surfaces," Leech explains, while also pointing out that timber can play a similar role. "Timber adds contrasting texture and also warmth to a white kitchen. It can be done quite subtly, through handles or stools, or more prominently, with cabinetry in a timber laminate or timber open shelving."
Creating shifts in tone
Leech suggests combining different shades of white to create shifts in tone, but says that it's important to choose your whites carefully. "Two whites with a warm undertone, for example, can work together, but they have to be different enough to produce a strong contrast," she says. "A safer approach is to combine white with a neutral decor or a light grey, or even to use a gloss and matte white finish alongside each other for contrast."
Introducing metallic accents
Adding a metallic finish as an accent can create points of interest in a kitchen without introducing so much detail that it loses its minimalist impact. Leech took this approach in her kitchen design, using the reflective sheen of Laminex Satin Smoke for contrast against the Chalk White cabinetry. The elegant metallic decor also complements the sleek stainless-steel pantry handles and glass splashback at the rear of the space.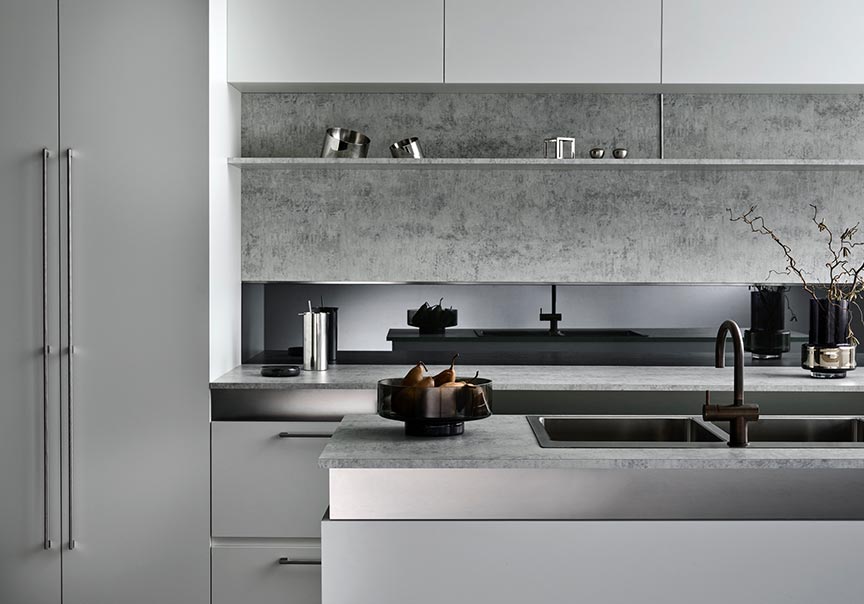 Building a sense of depth
Joinery designed with a shadow-line profile can bring a perception of depth to minimalist white kitchens, and this is how Leech introduced the metallic finish. "A gap between cabinetry and countertop can create light and shade, and prevents a design from looking too flat," she says. The open shelving beneath the overhead cabinets adds to this feeling by providing a place for accessories and other display objects that draw the eye.
Specifying appliances and accessories
Appliances, fittings and accessories can be used to push a kitchen design in very different directions. "Integrating appliances, such as a fridge, can enhance the clean, simple lines of a minimalist kitchen, but adding a black stovetop and black tapware can create a bold, graphic effect," Leech explains.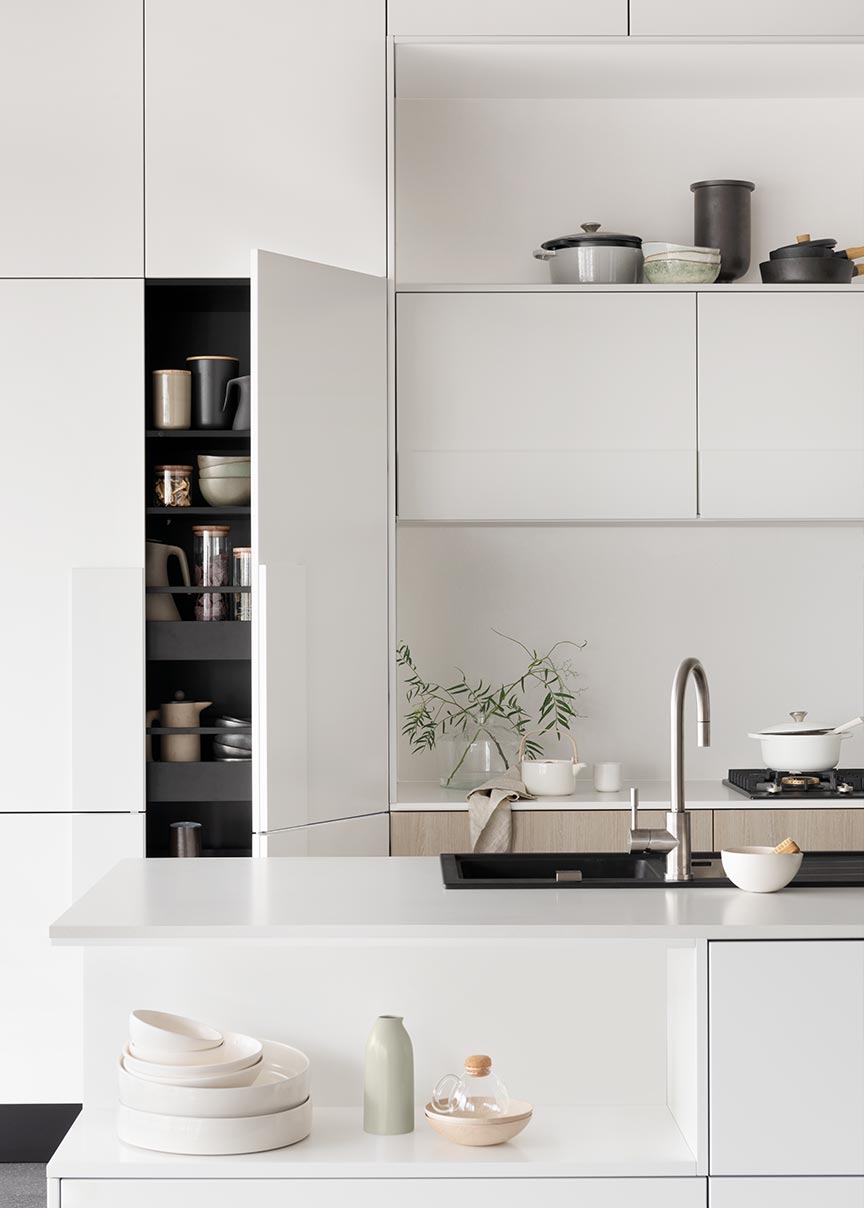 "Chrome and stainless-steel elements can bring a sleek element to a white kitchen, or you could add warmth through rose gold or bronze tapware." All of these products should be specified as part of an overarching colour strategy, alongside the white being used for surfaces. "If you are going for a graphic kitchen with black accents, choose a white that is quite cool," Leech says. "Or if your accessories are rose gold or bronze, select a white that has a little warmth."
But for all of these ideas to make a contemporary white kitchen more dynamic, Leech reminds designers not to lose sight of the original vision. "Don't overload it with accent colours, textures and features, or you won't know where to look," she says. "The best piece of advice for elevating a minimalist white kitchen is ensuring a sense of balance."