This collaboration between interior designers Studio MKN and Eliza Blair Architecture creates a strong visual effect with joinery in navy blue and black.
There's an important project underway in Australia's suburbs, rejuvenating our existing building stock to accommodate modern lifestyles, without the wastage that comes with a "knock down and rebuild". In this example, it was a 1960s unit in the Melbourne suburb of Malvern East. The owner, who wanted to create an unexpected interior behind the unit's unassuming apricot-brick facade, engaged Eliza Blair Architecture and interior designers Studio MKN. Together they set about transforming the three-bedroom residence into two bedrooms plus a study; a home marked by a modern, minimalist aesthetic, with open spaces washed in natural light.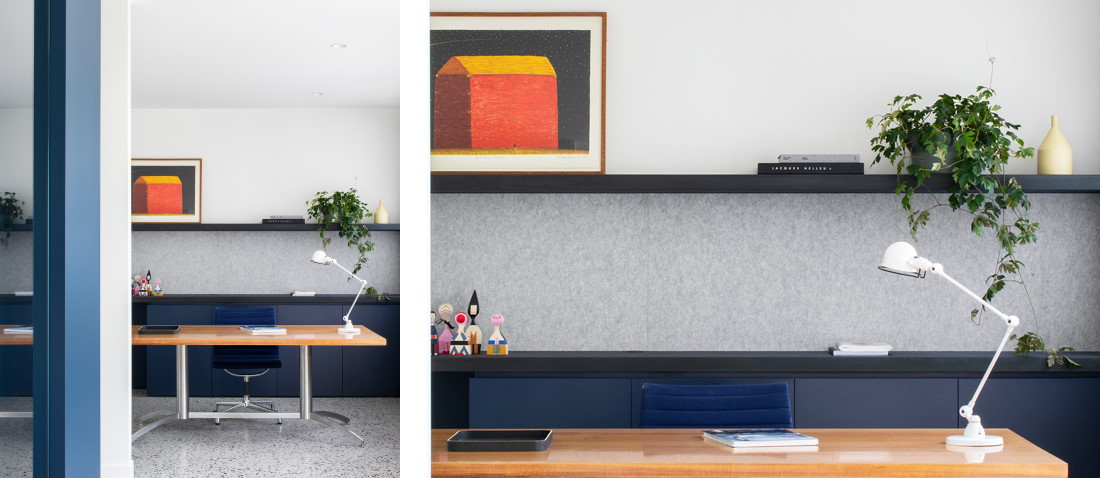 "The client wanted to make the spaces work for his lifestyle, and to create something meaningful to him."
Amanda Nettleton – Director, Studio MKN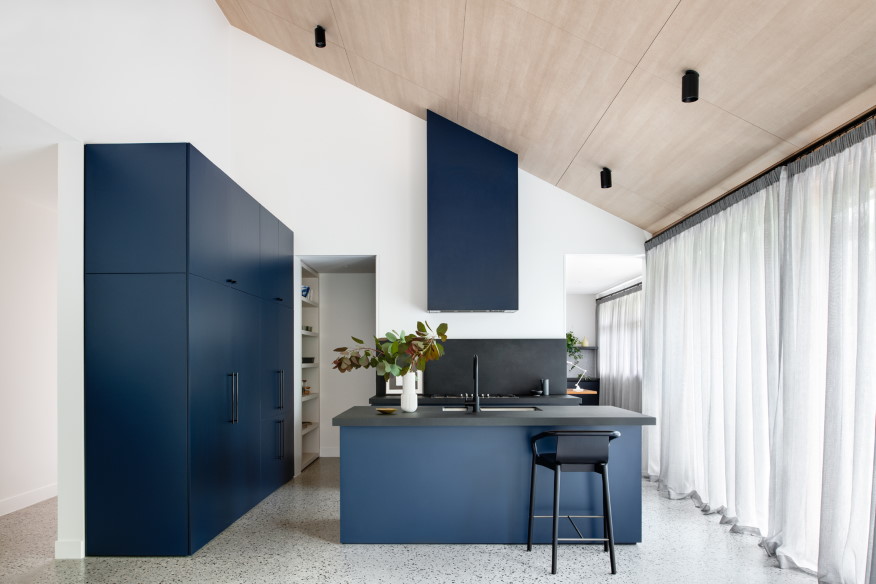 As we might expect in 2021, the kitchen is now the focal point for a central open-plan living area. A new raked ceiling enhances the sense of space, and large sliding doors open both the kitchen and lounge zones to the outdoors. The 1960s details, such as architraves and cornices, have been removed to create a more contemporary feel, with a focus on clean lines and crisp forms. And a palette of white, grey, pale timber and concrete flooring provides a calm and neutral backdrop throughout the home.
But that palette also sets the scene for moments of strong contrast, nowhere more so than in the kitchen, which combines cabinetry in Laminex French Navy with black benchtops and splashback, in bold blocks of colour. "It is not every day you experience an all-navy kitchen," says Studio MKN Director Meredith Nettleton. "It creates an unexpected interior and complements the blue-toned aggregate in the concrete." The result is a kitchen that reads as a composition of strong geometric shapes, albeit one that defies a commonly held idea about colour. "Contrary to popular notions, navy and black work well together," Nettleton says. "And this kind of combination is how you create the dramatic colour-blocking visual effect."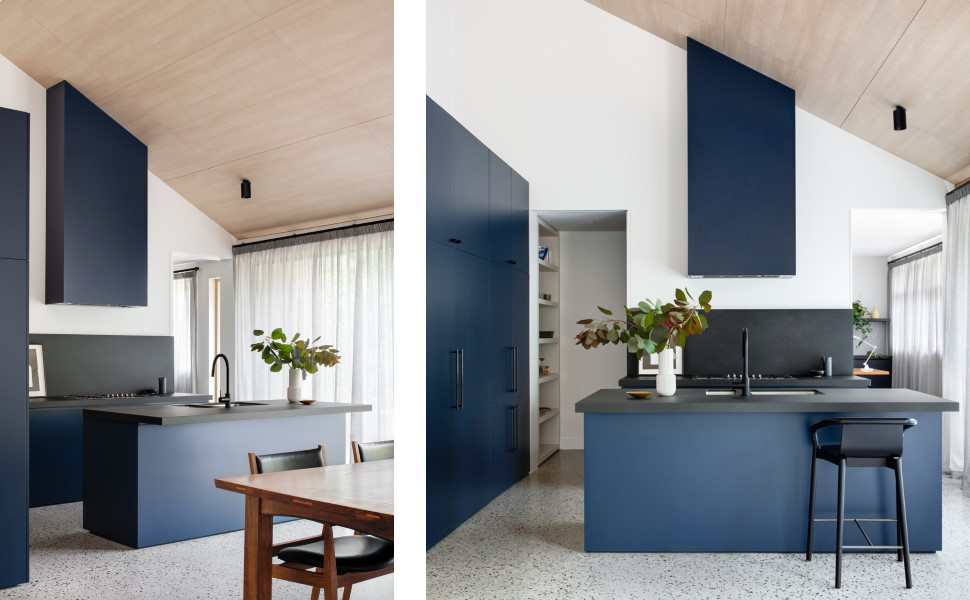 "We paired Laminex French Navy with dark benchtops and splashbacks so the joinery units read as blocks or cubes."
Amanda Nettleton – Director, Studio MKN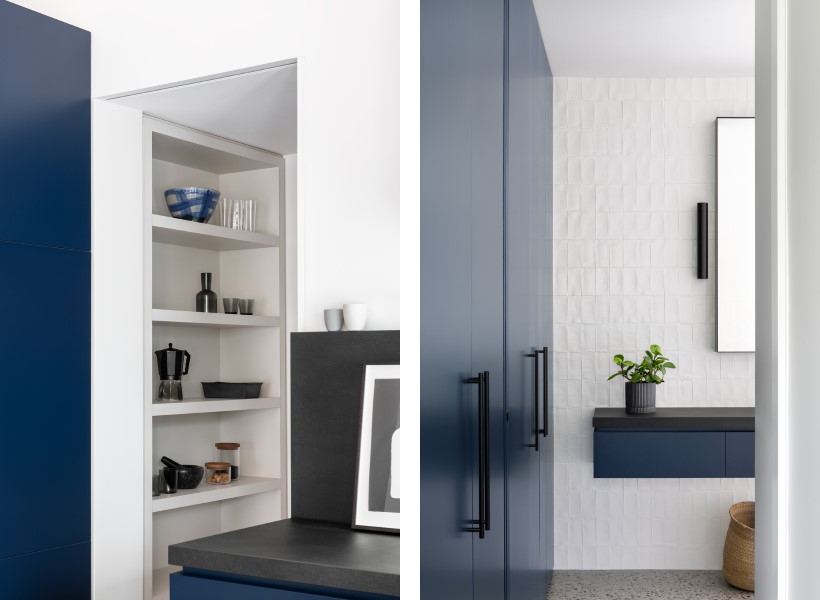 The same combination is used for joinery in the kitchen, bathroom, laundry and study, with the subtle addition of ultra-matte Laminex Absolutematte Surf in the open pantry. The aim was to achieve a consistent and holistic design, but this approach also helped the designers meet a more modest budget, which is one of the reasons Nettleton chose Laminex laminate. "We were looking for an affordable, long-lasting product that came in strong, bold colours, which could be used throughout the home," she says. The effect is striking, and to the satisfaction of the client, makes for a surprisingly bright, modern and bold interior. With any luck, it will inspire the owners of the other units in his block to pursue similar renovations!
Contributors:
Design: Studio Mkn
Architect: Eliza Blair Architecture
Builder: Gamine Projects
Photography: Nicole England
Stylist: Natalia James
Joiner: Perfect Joinery