The refurbishment of this small apartment in Sydney's south-eastern suburbs achieves a perfect balance between period style and contemporary amenity.
When designer Sophie Bowers and her fashion stylist husband, Josh Climpson, bought their first home, they lived in it for over a year before renovating. The 1920s art deco apartment in Sydney's Kensington still had many of its original features, but was cramped and in desperate need of more storage space. As the founder and director of Strutt Studios, Sophie managed the refurbishment, designing a bright new scheme that prioritised functionality to better support the couple's busy modern lifestyle.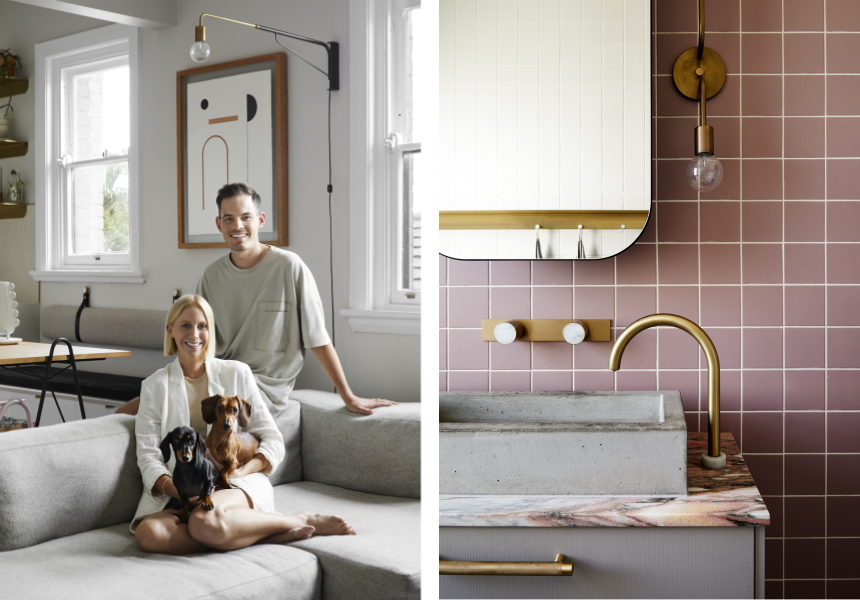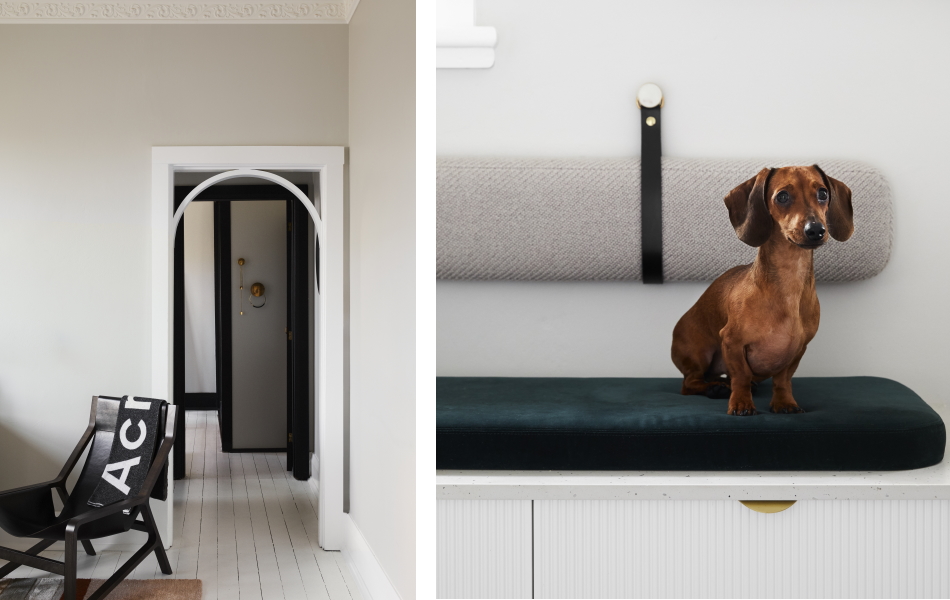 The floorplan was reconfigured and a number of walls removed, including one between the kitchen and dining area, to open up the interior. However, Sophie retained the living area's beautiful original plasterwork ceiling moulding and curved brass light fitting, respecting the apartment's heritage and maintaining its character. And when it came to curating the material palette, she took inspiration from the building's lobby, which is resplendent with pink terrazzo flooring and more brass light fittings.
A dusty rose tiled splashback draws the eye in the kitchen, alongside brass cabinetry handles, shelving and tapware, and elegant fluted-glass cabinetry doors. Sophie wanted to avoid white on the walls, instead settling on pale grey paint teamed with minimally detailed joinery in Laminex Baye. "Because it's a very small kitchen, the full-height joinery had to look like an extension of the walls rather than be a feature themselves," she says. "I do lean towards Laminex decors because all the colours have a real warmth behind them and Baye was the natural choice as it's such a soft grey."
"Laminex decors are beautiful and soft. I like to use them on joinery because they don't look clinical or dull and the colours have a real warmth to them."
Sophie Bowers – Founder, Strutt Studios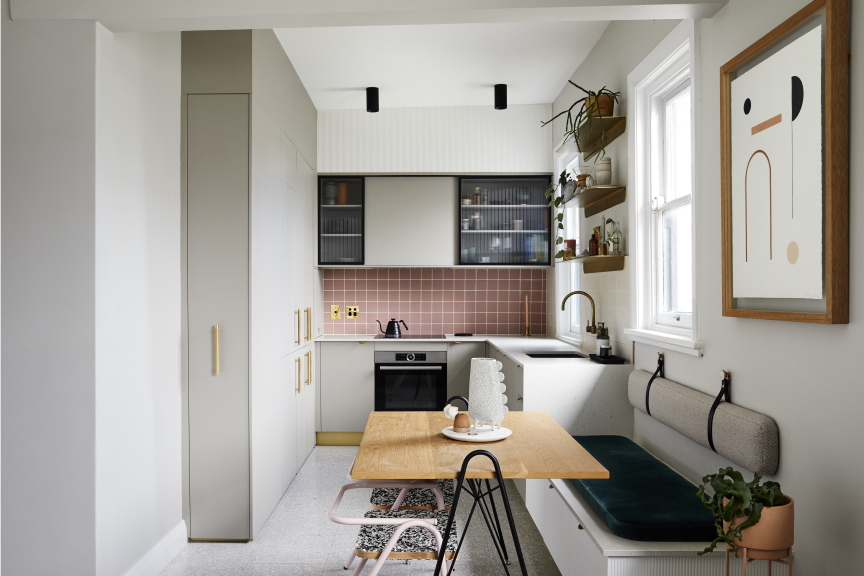 Laminex Brushed Brass was also specified into the design, its authentic textural sheen a perfect accompaniment to the other brass elements in the space. The metallic decor has been applied to the kickers on the kitchen cabinetry and adjoining banquette seating, and also to the single step riser that marks the change in floor level between the living and kitchen zones.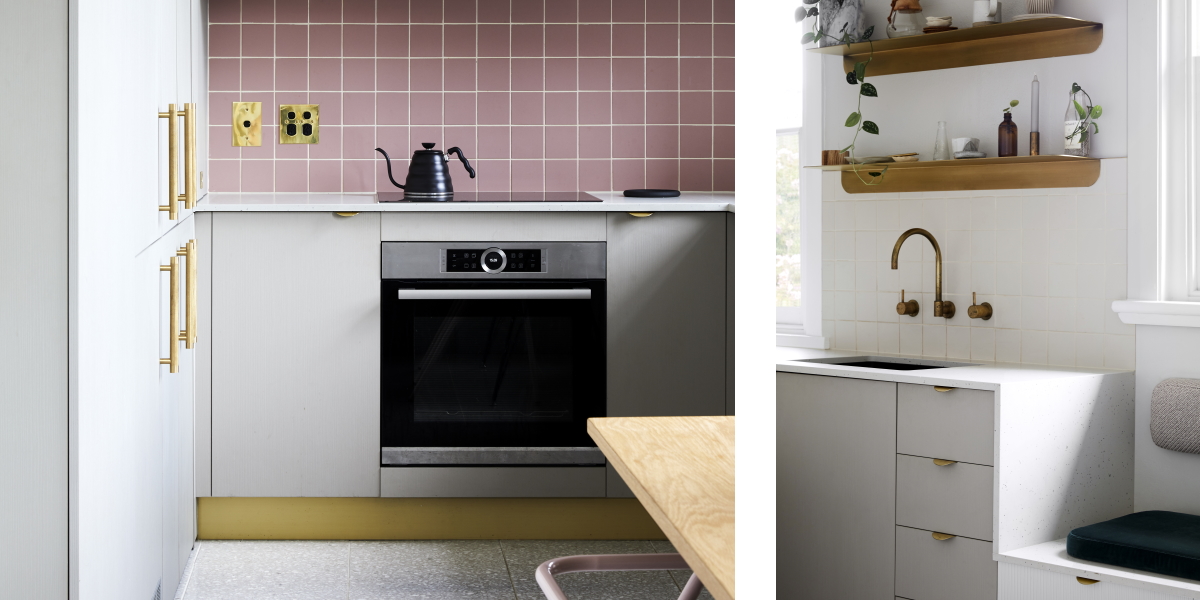 "As a designer, I'm always specifying Laminex in residential kitchens because it's so durable."
Sophie Bowers – Founder, Strutt Studios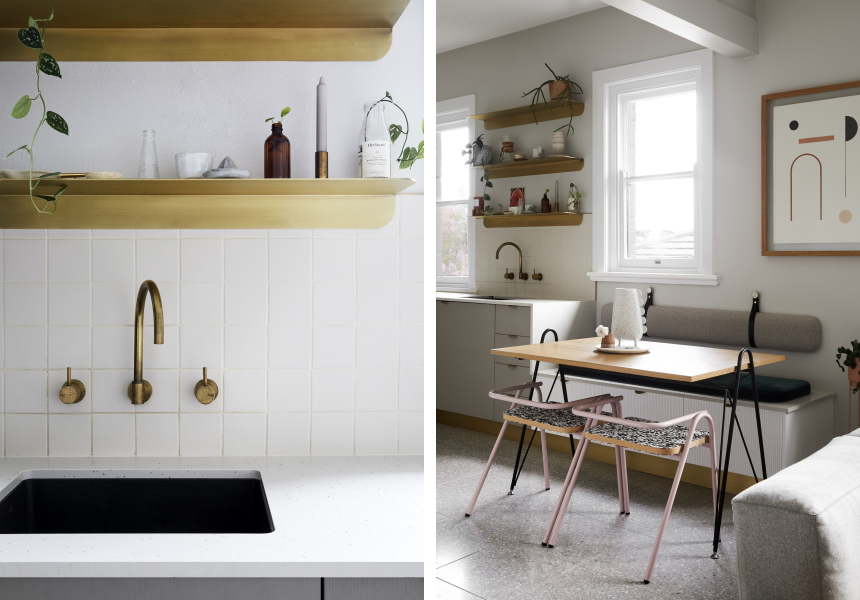 Sophie particularly likes the way the light reflects off these Laminex surfaces, giving the kitchen a welcoming ambience, but it's the product's durability with which she's most impressed. "For a family home, it's all about creating a space that's low maintenance," she explains. "And because the kitchen is so tight, I needed to select a finish that I knew could take a beating and still look just as fresh in 20 years' time." This dual consideration for aesthetics and practicality is indeed a hallmark of the reconfigured apartment, making for a home that's compact yet highly liveable, and with its original art deco charm wonderfully reinvigorated for the twenty-first century.
Contributors:
Design: Strutt Studios Interior Architecture
Photography: Caitlin Mills for The Design Files