Taking cues from the mid-century houses of Palm Springs, this Launceston home is a showcase for the authentic beauty and durability of Laminex Woodgrain laminate.
The relationship between architect and client is crucial to the success of any project. So, what happens when an architect has "the worst client in the world"? That's what Michael Bernacki, director of Honed Architecture and Design, faced during the design of 41 Lakeside Drive, a new house in Launceston. "The client was impossible," he laughs. "I can say that with confidence, because the client was me!"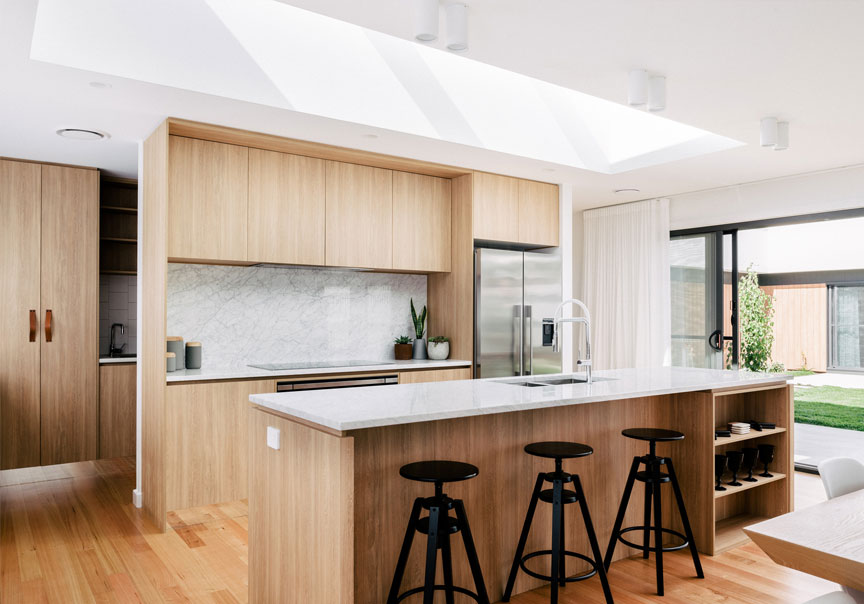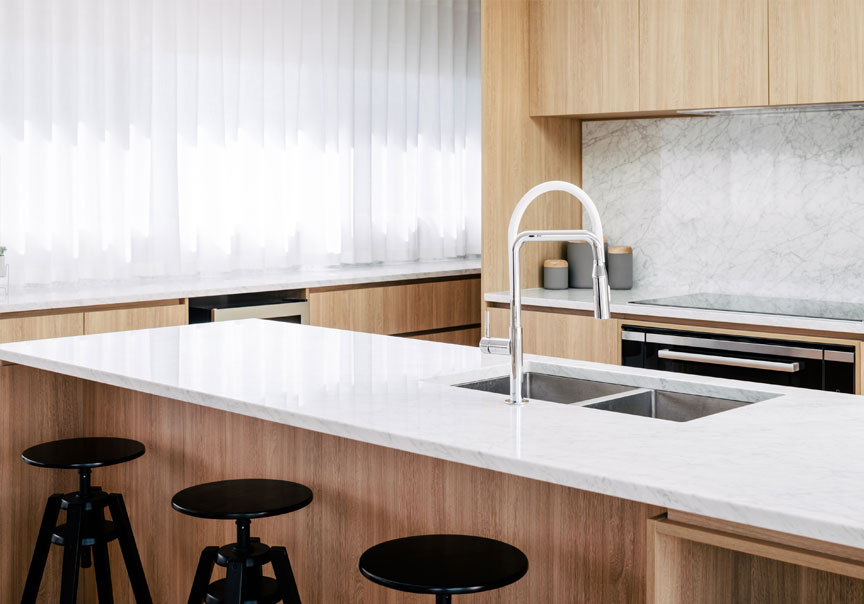 Designing a floorplan to capture the sun
The house is located on a corner block in the southern suburb of Kings Meadow. Bernacki bought the land in 2017 and spent countless hours studying how the sun moved across it at various times of the day. "I painted the layout of the house on the ground, so I knew exactly where the rooms were and could be sure that all parts of the house could get morning sun," says Bernacki, who shares the four-bedroom home with his fiancée, Jenna, and their energetic spoodle, Tilly. "I had so many ideas floating around in my mind and it was hard to settle on the right direction and define what we wanted out of a home for ourselves."
The final design, comprising three wings that wrap around a north-facing internal courtyard, was heavily influenced by Bernacki's appreciation of mid-century modern architecture, which he developed during many trips to California's Palm Springs. Its stacked-brick facade and open-plan layout are obvious nods to the design era, as are Bernacki's collection of mid-century furniture and his choice of light warm-tone woodgrain surfaces.
Balancing beauty with practicality
The specification of interior materials was largely based on durability, says Bernacki. "Our spoodle is very active and creative, so we had to pick finishes that would go with our furniture collection and our neutral Scandinavian-inspired palette, but that were really hard-wearing," he explains.
Bernacki selected Laminex Honey Elm for joinery throughout the home – from the kitchen and living room all the way through to the bedrooms, laundry and bathroom. "It's closest thing we found to real timber grain, and being from the Laminex range, we found it to be so durable. When the puppy is scratching or jumping up and being excited, there are no marks at all on the joinery. It's hard-wearing, it's easy to clean and it works well with our Tasmanian oak floors," he says. "It also has a beautiful warmth with layers of textures and tones within the grain. A lot of timber laminates look so fake, but this looks like the real thing."
Exploring a new iteration, down the street
Despite only occupying the home for just over a year, Bernacki is in the process of designing another one. "I was engaged to design a home for a client but, when he saw this house, he offered to buy it instead of building his own," he explains. "So I sold it to him and will be building a new home on the same street!" The new project is set to build on similar themes explored at 41 Lakeside Drive, with joinery again featuring Laminex Woodgrain surfaces - the mid-tone woodgrain of Sublime Teak, this time with Essastone benchtops. "I've used marble in previous houses I've owned, but it requires a bit of maintenance," says Bernacki. "Having seen Essastone in clients' homes, I know that it's durable and easier to maintain."
Contemplating the idea of starting this process again, Bernacki says, "I love the idea of learning by making." And while he'll undoubtedly benefit from the experience of living in a home that he's designed, let's just hope his "client" is a bit easier to work with this time around!
To explore Laminex's full range of authentic-looking and high-performing Woodgrain laminates, click here.
Architect: HONED Architecture + Design www.honedarchitecture.com
Photographer: Anjie Blair www.anjieblair.com