T

he kitchen benchtop is one of the most well used surfaces in any family home. Constantly exposed to crumbs, spills and grubby fingers – it's the last thing you want to be too precious about. Keeping your engineered stone benchtop looking great is easy once you know how. So we've rounded up the most common questions we receive about cleaning Essastone surfaces.
How often should I clean engineered stone?
Every day. If your stone surface is in contact with food and drinks or general dirt, grime and bacteria we suggest you clean your benchtop daily after cooking or any food or drink preparation. And if your benchtop is a matte, honed, textured or non-gloss surface, it's just as durable as gloss surfaces, but it might need more frequent cleaning to keep it free from marks and fingerprints.
What should I use to clean engineered stone?
Nothing fancy. Warm water and a soft, damp cloth with a small amount of mild, bleach-free, non-abrasive detergent does the trick for everyday cleaning. Make sure you clean up liquid spills (including fruits and veggies, food colourings and curries) as soon as possible with a damp cloth and a mild detergent, as their bright colours can tend to stain more easily.
I've heard acidic liquids stain easily. Is that true?
All Essastone surfaces are acid and scratch resistant. Other, non-Essastone engineered stone surfaces may be etched or stained by items that contain acids such as vinegar, fruit juice and wine.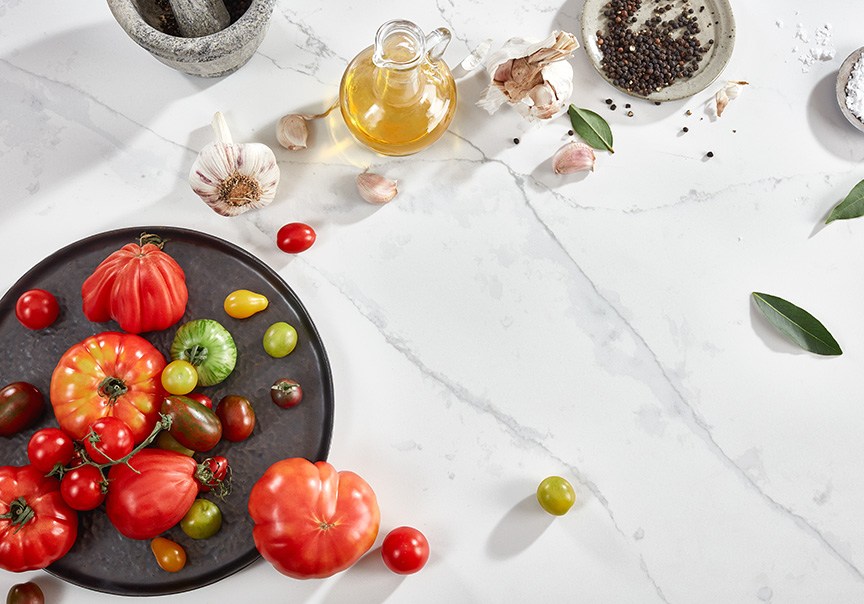 What should I avoid using on engineered stone surfaces?
Some chemicals and solvents can cause damage to quartz-rich surfaces such as Essastone. We suggest that you avoid:
- Concentrated bleach (like undiluted Domestos)
- Oil-based soaps
- Furniture or oven cleaners
- Drain cleaners and other chemicals with high alkaline pH levels
- Paint remover or paint/stain strippers
- For Gloss surfaces "" we suggest avoiding cream-style cleansers entirely, as many contain abrasives that can damage polished surfaces
Aggh! I've spilt something on my benchtop – what do I do?
Hey, this happens ALL THE TIME. Don't panic. We're here to help.
Cleaning nail polish or chewing gum
For gloss surfaces:
1. First, simply try your usual routine clean.
2. If this doesn't help, try a glass and surface cleaner with a soft cloth or sponge.
3. If sticky substances are still stuck on the benchtop, use a plastic scraper to remove them and then try cleaning again.
For matte, honed or textured quartz surfaces (NOT GLOSS), try using a mild cream cleanser such as "œJif Cream Cleanser with Microparticles".First, wet the benchtop with a little water and apply a small amount of cleanser to a damp, soft cloth. Use a swirling motion, clean the surface with a light pressure and keep the area wet, allowing the fine cleaning particles to remove the stain. Finally, wash and wipe away the cleanser and dry with a soft cloth.
What about red wine or permanent marker?
Try a diluted bleach solution such as half Domestos regular cleaner and half water. Don't leave the bleach to stay on the surface for longer than one minute. Then, wash your bench with water to remove the diluted bleach and dry it with a soft cloth. If the stain is still visible, repeat the process again.
Help I have glue on my benchtop!
If the glue hasn't yet dried on the benchtop, simply remove it with a soft cloth. If the adhesive (eg super glue) has dried, try easing it off with a soft plastic scraper. No luck? Try a white spirit cleaner (try a spot test first) and then immediately wash it down with water.
Is it true nail polish remover can help clean engineered stone benchtops?
Honestly, using acetone is a last resort. For all finishes, try the above recommendations first, but if spots or stains persist then it can be worth a try. We highly recommend testing the acetone on an inconspicuous area before applying it on top of your benchtop, as colour change or surface damage resulting from the use of acetone might not be recognised under your warranty.
Is there a way to repair scratches on my quartz surface?
Light scratches and burn marks on engineered stone surfaces can usually be repaired by stone restoration technicians. And deeper scratches or full depth scorch marks can usually be improved.
This cleaning guide is for Essastone surfaces. These tips may work for other quartz surfaces, but make sure you first check your warranties and follow the specific care instructions for your product. For more tips on how to clean and maintain Essastone surfaces, please download our Care and Maintenance Guide.