This brand new Laminex product, designed with the very latest surfacing technology and manufactured in Australia, might just be the ultimate high-gloss panel.
For years, the choice between different high-gloss cabinetry panels has been defined by compromise. The "premium" option, 2 Pac polyurethane-painted panels, can look beautiful but are expensive and often subject to lengthy lead-times. Meanwhile, more affordable gloss panels have never quite captured the mirror-like clarity and reflectiveness that enables a super-high-gloss finish to really elevate a space. But now, with the launch of Laminex AbsoluteGloss Panels, compromise is no longer required. These brand-new panels offer a luxurious super-high-gloss finish, durability and ease of maintenance. And they present an improved highly reflective look compared to 2 Pac polyurethane-painted panels, at a considerably lower cost.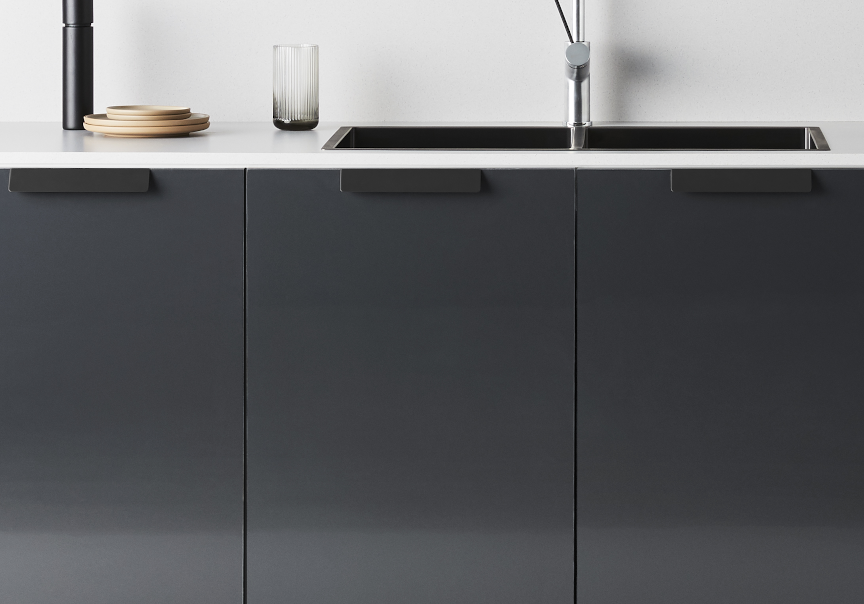 Integrated with the Laminex Colour Collection
AbsoluteGloss Panels are available in six decors from the Laminex Colour Collection – classic Black, striking Polar White, grey-white Ghostgum, warm grey Oyster Grey, mid-tone red-based grey Tornado and rich carbon-grey Terril – and each has been colour-matched to new-generation ABS edging also in a gloss finish. The emphasis on contemporary neutral tones provides great opportunity to create textural effects, by pairing matching decors in different finishes. Or these tones can form the basis for entire interior palettes, with complementary or contrasting decors from the broader Laminex and Essastone ranges.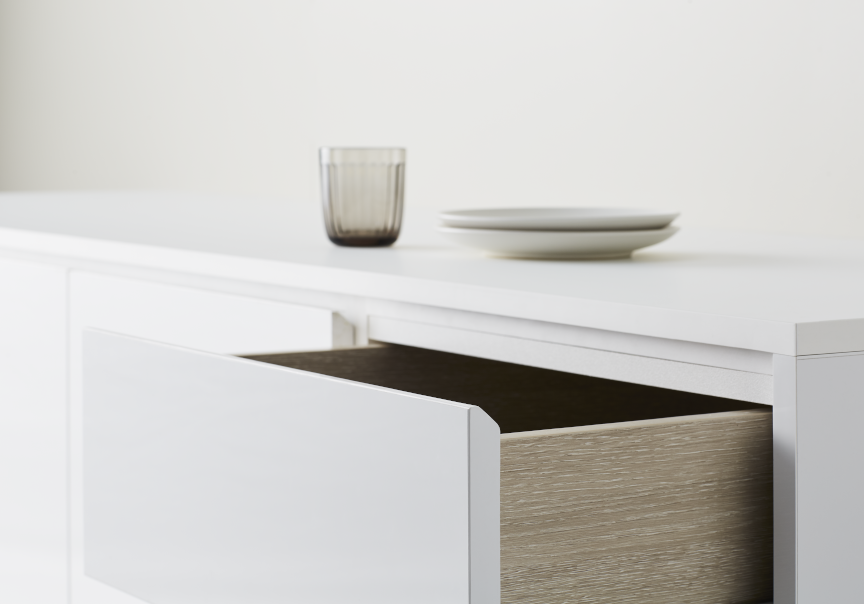 Cutting-edge technology, manufactured in Australia
"This new product is the result of a global search for emerging technology in surface materials," explains Laminex Innovation Development Manager Chris Knight. "We tested numerous options before we identified this new-technology surface that could deliver not only a beautiful, highly reflective aesthetic, but the really high degree of durability we were looking for." The panels were then designed and engineered for manufacture on the hot melt lamination production line at Laminex's factory in Ballarat, using Laminex MDF made in Australia from sustainably grown forests as the substrate.
Knight says the product's development involved an "end-to-end process" that considered every aspect of the panels' use and ongoing care. For example, to ensure the long-term stability of each panel, they're balanced on the back with the same high-quality material, but in a matte finish. And they're exceptionally easy to keep looking pristine. "These panels are built to withstand day-to-day wear and tear," says Knight. "And to restore their original lustre, you simply wipe them with a clean microfibre cloth and the foaming cleanser that comes in the Laminex Care & Maintenance Kit."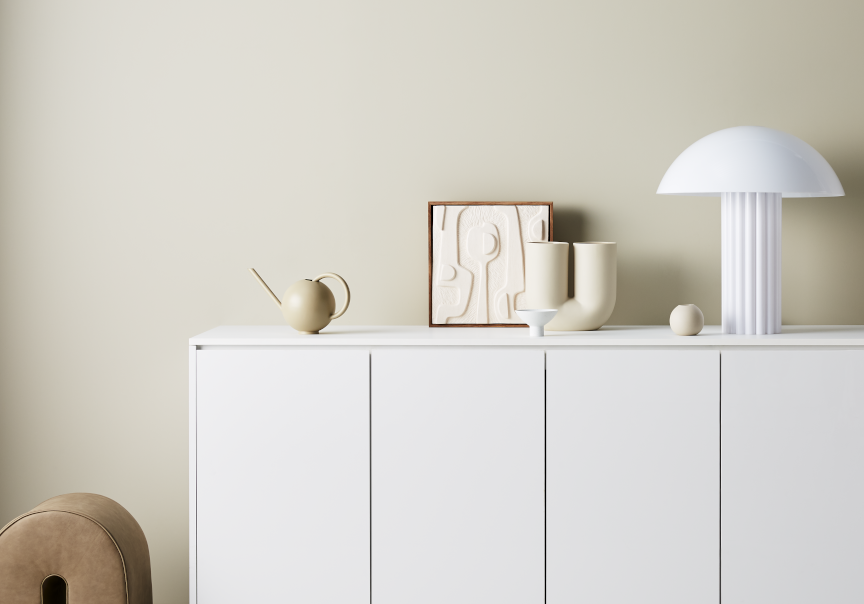 As with other Laminex products, having the panels made in Australia comes with a wide range of benefits. Specifically for designers and fabricators, it means that they are kept in stock locally and orders can be fulfilled with quick turnaround times. This includes a standard panel size of 2400x1200mm for all decors, as well as 3600x1200mm for Black and Polar White, to enable their use in full-height cabinetry and wall panels. In addition, AbsoluteGloss Panels have been added to the Laminex Made-to-Measure Doors and Panels offering, so they can be ordered as custom-sized componentry, fully finished, ready to install and so beautifully, beautifully glossy!
Laminex AbsoluteGloss Panels are available now. To order a free sample, click here