With Essastone's marble-look designs, you can deliver the look and feel of natural marble with the cost-effectiveness and durability of engineered stone.
The variable strands of colour in a natural marble slab are instantly familiar and infinitely beguiling, but often the cost of natural stone pushes it beyond a project's budget. And for many applications, the work required to keep it looking pristine quickly makes it less desirable. By contrast, Essastone's marble-look designs combine the cost-effectiveness and hardwearing performance of engineered stone with true-to-life veining detail that recreates the appearance of natural stone with stunning authenticity.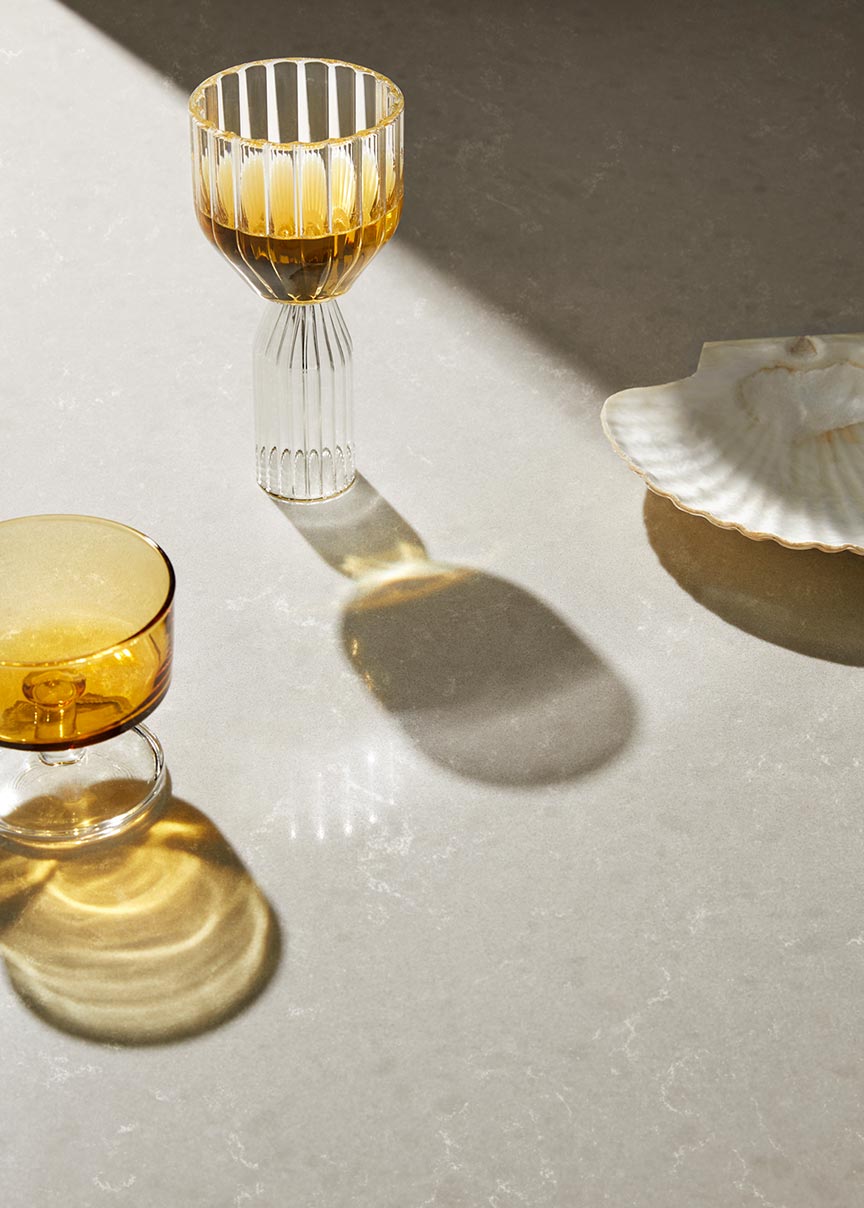 "Some of the Essastone designs have very striking vein details while others are more subtle," says Laminex Design Consultant Catherine Valente, "so there's really a perfect stone here for any project." To provide guidance on how architects, designers and fabricators might work with them, we asked Valente to discuss some of the key colours from the range.
Unique Calacatta
Essastone Unique Calacatta features a crisp white base with elegant strands of deep grey just like the classic marble it's inspired by. "Its vein structure is perfect on a large scale, especially as a thicker benchtop or monolithic block island bench," says Valente. "It's also wonderful as a seamless splashback, extending from the benchtop and up the wall." Unique Calacatta is highly versatile too and according to Valente would even work in a classic-look kitchen. "Pair it with cabinetry doors in a Shaker profile and they'll add visual interest while still allowing the stone to be the hero element," she says.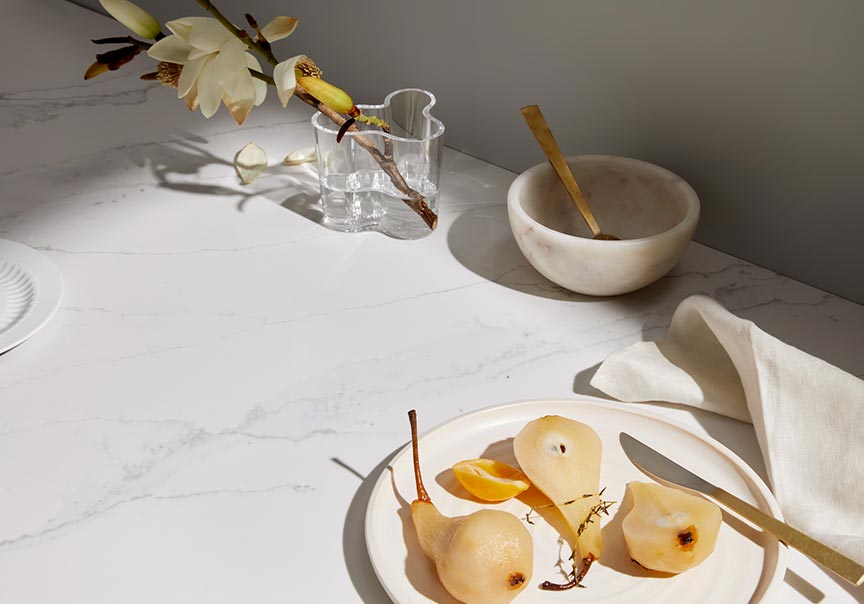 Milano Venato
Beautifully soft, snow-white veining brings a radiant edge to Milano Venato's milky white base, which Valente describes as giving the design a heightened sense of luxury. "It's the perfect colour for a soft, classic look," she says. "It works well with many variances of white, but also mid-tone neutrals and organic tones like Laminex Seed, Green Slate and Winter Sky." Rich red-based timbers are also a great complement for Milano Venato, including Laminex decors Natural Walnut and Planked Urban Oak.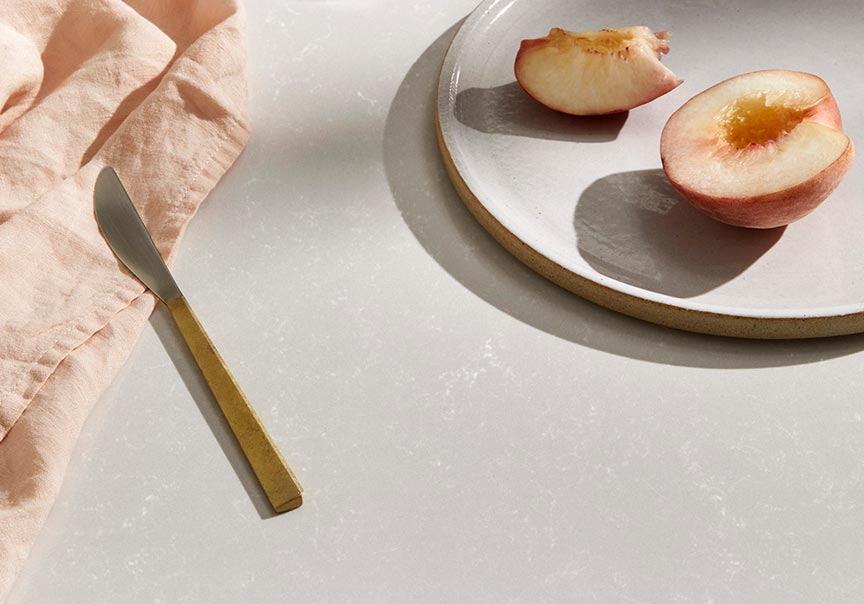 Perla Venato
The warm grey base of Perla Venato is complemented by soft, creamy white veining and elegant tonal graduation. "This design works well with warmer tones and those with a slightly grey base," says Valente. She recommends pairing it with timbers, mid-tone or rich neutrals, and metallics from stainless steel to warm, textural Laminex decors such as Brushed Brass and Copper Brush.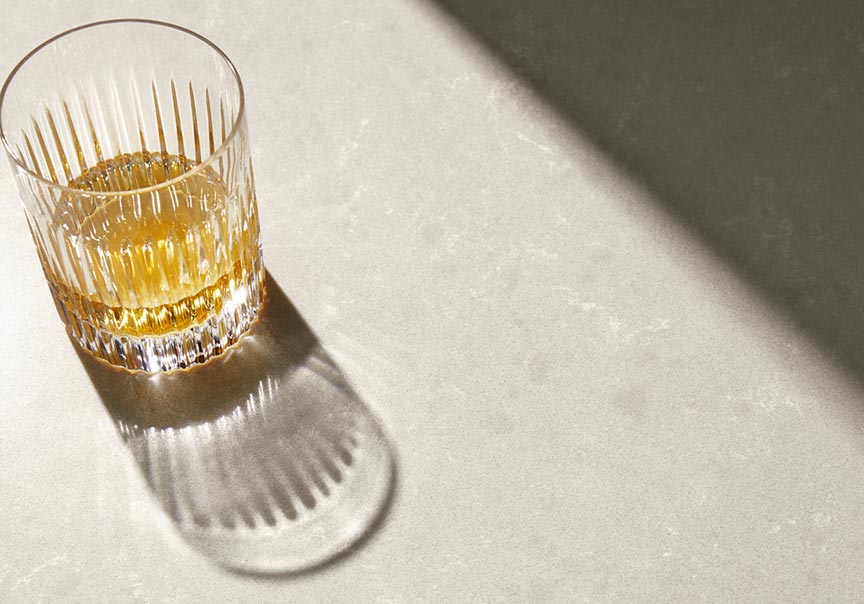 Marmo Bianco
Marmo Bianco features substantial, tonal marbling with a subtle metallic accent over a sophisticated ivory base. "This is the perfect design for someone who wants a sense of elegance but not an overwhelming vein pattern detail," says Catherine. "It works beautifully in both contemporary and classic schemes." For a modern look, a warm grey like Laminex Lava Grey will highlight the mid-grey tones in Marmo Bianco while also complementing its brown notes. Or to bring out the metallic elements in the stone, a light, warm timber like Laminex Classic Oak would be an ideal pairing.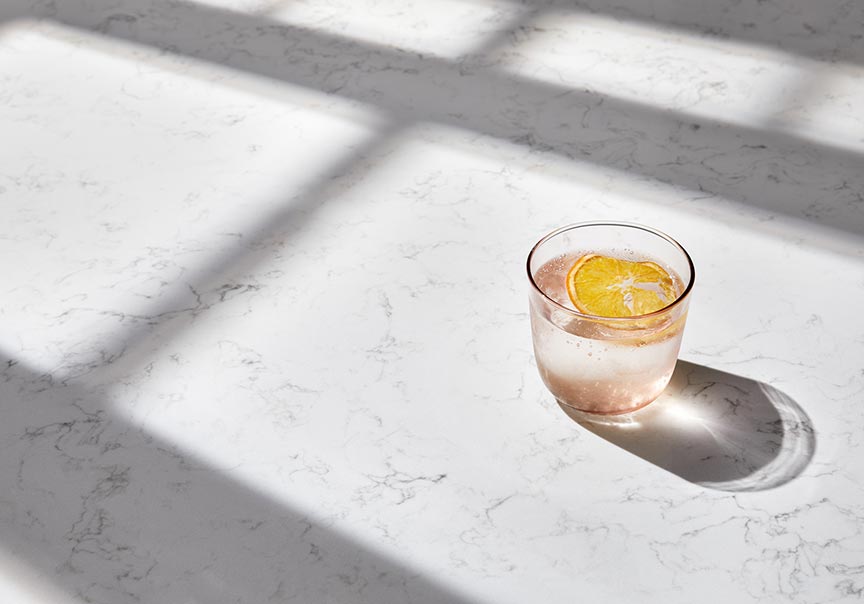 Carrara
Valente describes Carrara as "a true classic, providing a stunning, elegant look." It has delicate, powdery grey veins over a soft grey base, with a visual structure that makes it adaptable to a wide range of interiors, including classic, art deco and beach house interior styles. Valente suggests pairing it with timber or mid-tone block colours, such as organic green Laminex Possum and Spinifex, or deeper neutrals Winter Sky and Terril. "It's also suited to classic white tones," she says.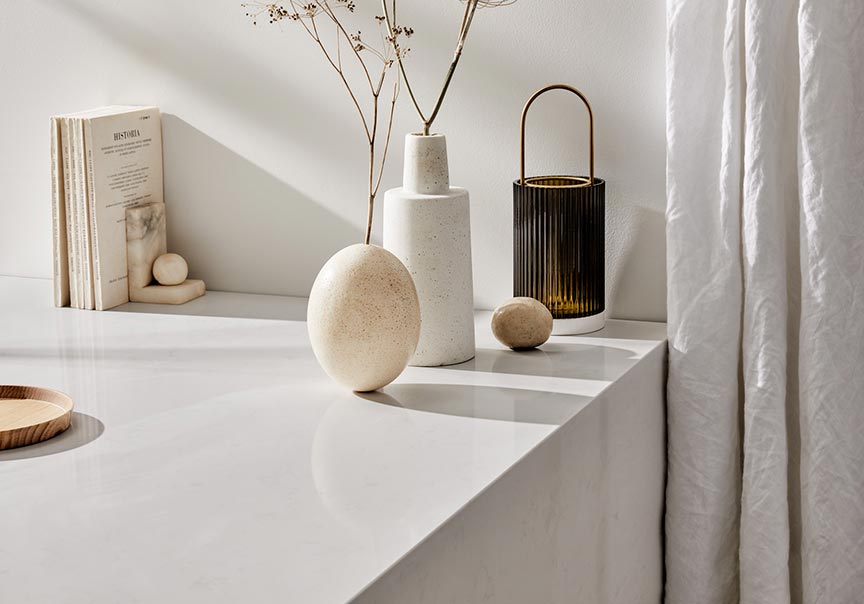 Fino Venato
Distinct brown-grey veining on a crisp white background gives Fino Venato a fresh, modern feel that brings a sophisticated edge to contemporary interior styles. According to Valente, its vein detail pairs well with red-based timbers, but is also a great match for earthy neutral tones, such as apricot, terracotta and brown, all of which will be popular colourways in the coming year. "Fino Venato also complements metallics, like Laminex Brushed Brass, Brushed Bronze and Mirror Smoke," she says.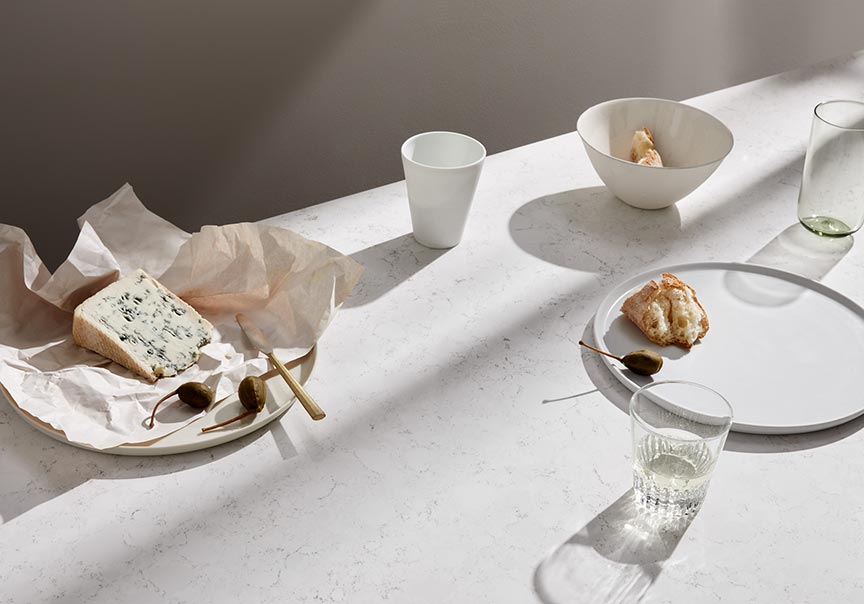 Grigio Novello
With its rich charcoal background, Grigio Novello is the ideal design for tapping in to the movement towards dark interiors, but without going completely black. It's cloud-like veins shift between soft grey and taupe, creating beautiful depth of colour and adding warmth. "Grigio Novello is highly refined, elegant and sophisticated," says Valente." And because its soft veining is smoky rather than white, it's highly adaptable to both modern and classic interior schemes." Combining it with mid-tone grey surfaces will bring those smoky tones to the fore, while a metallic decor like Laminex Satin Smoke will add subtle glamour.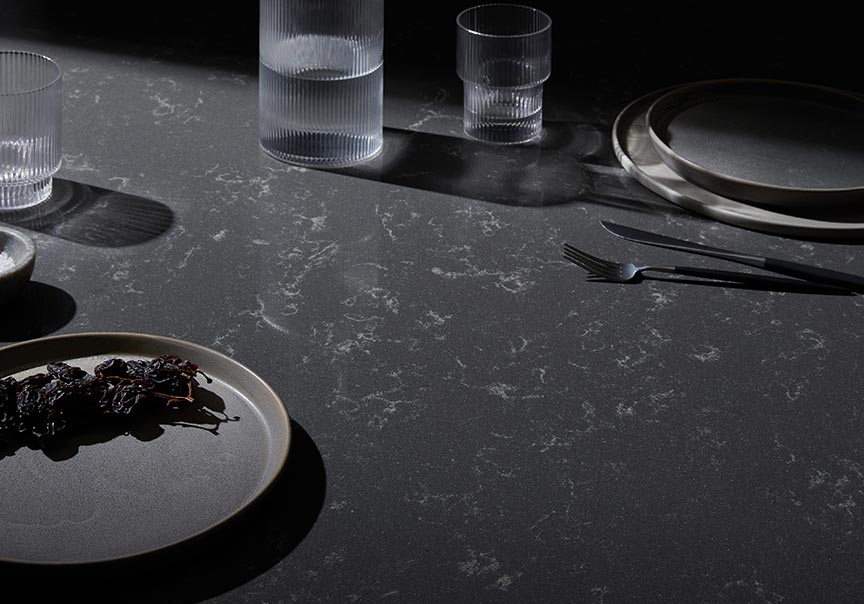 You might also be interested in these articles