When Laminex Design Marketing Manager Catherine Valente sat down to design scenes to showcase the seven new decors in the Essastone 2018 Collection, she asked the same questions that any architect or designer would.
How can I use these colours and textures to create really special places? What design styles would they work with? How can I take advantage of the jumbo slab sizes they're available in? What other colours and finishes will make them really sing?
The answers she came up with and the design decisions she made, not only highlight the beauty of these new European-made decors, but give other designers vivid inspiration for their own projects.
Classical marble style with a modern twist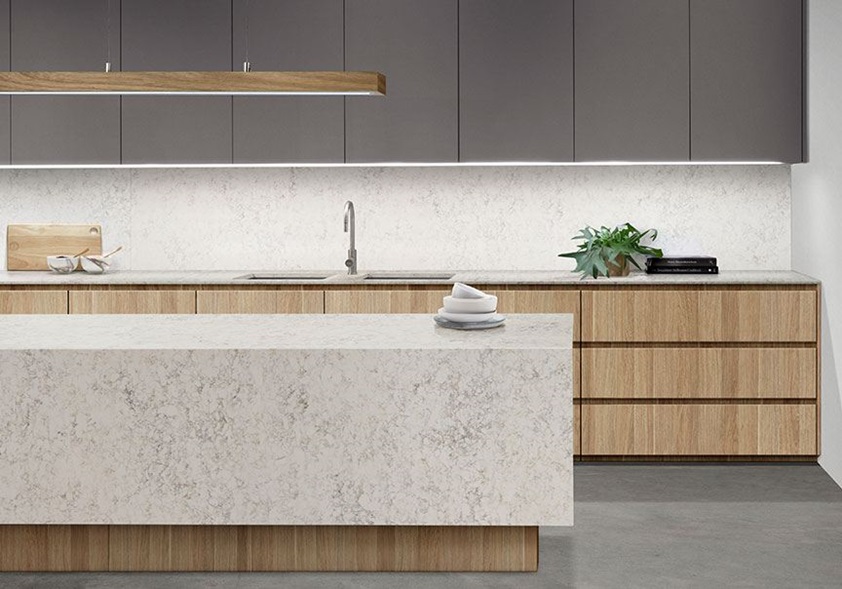 "The shifting intensity of its veining and subtle metallic accent told me that Essastone Marmo Bianco should be heroed in a contemporary kitchen, so we designed this lean, rectilinear island bench to showcase it," explains Valente. A recessed Laminex Classic Oak kickboard brings a sense of lightness to the ivory-white bench. Classic Oak was also used for drawers and base cabinetry, its tone bringing out the metallic highlight in the Marmo Bianco.
The ultra-matte finish of Laminex AbsoluteMatte in Stormcloud, which was applied to overhead cabinetry, reinforces the contemporary feel of the kitchen.
Subtle elegance and cloud like veins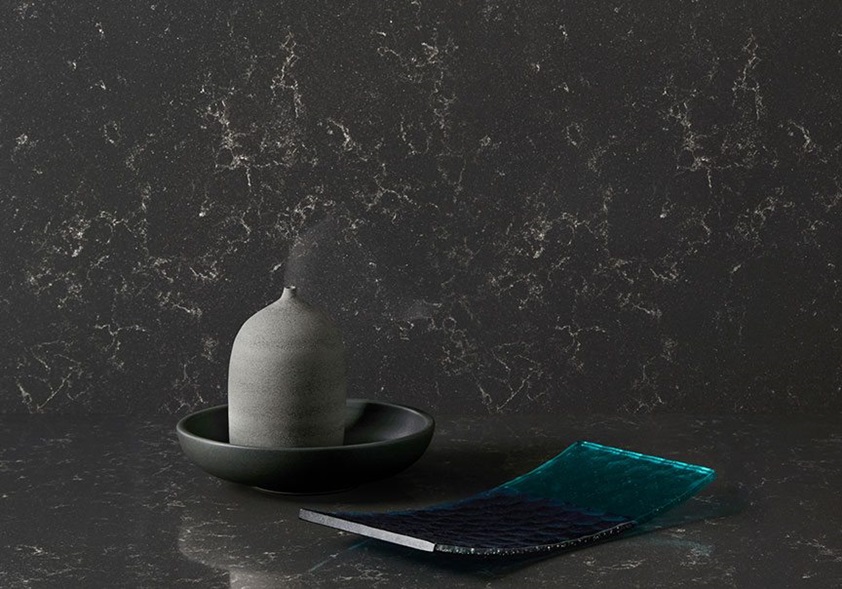 "It's all about the cloud-like veins and depth of colour with Essastone Grigio Novello," says Valente. The veins float like wisps of smoke across their charcoal background and vary in colour, sometimes grey, sometimes more like taupe. The effect is highly refined, elegant and sophisticated, and makes for a great alternative to traditional black-and-white design palettes.

To bring out these different colours, Valente paired a Grigio Novello benchtop with ceramic objects in shades of grey, adding a beautiful glass dish "for a contrasting pop of colour and to introduce colour trends for 2019".
Textural, industrial, architectural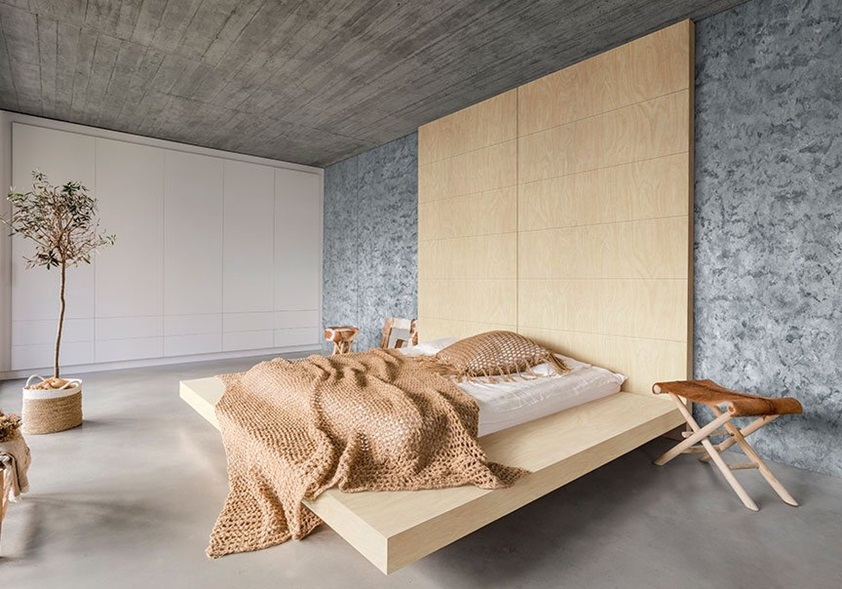 "I really wanted to show that Essastone isn't only for benchtops," says Valente of the contemporary bedroom she designed to showcase Essastone Luna Concrete. "So we created a beautiful architectural look by applying our engineered stone as wall cladding." Luna Concrete's hand-troweled-look texture brings a sense of authenticity and tactility to the space while Laminex Raw Birchply laminate, used as the surface material for a custom-designed floating bed, adds warmth.

Combined with a seamless wall of cabinetry in Laminex Chalk White and rustic timber furniture, it's a picture of Nordic cool.
White on white, soft and subtle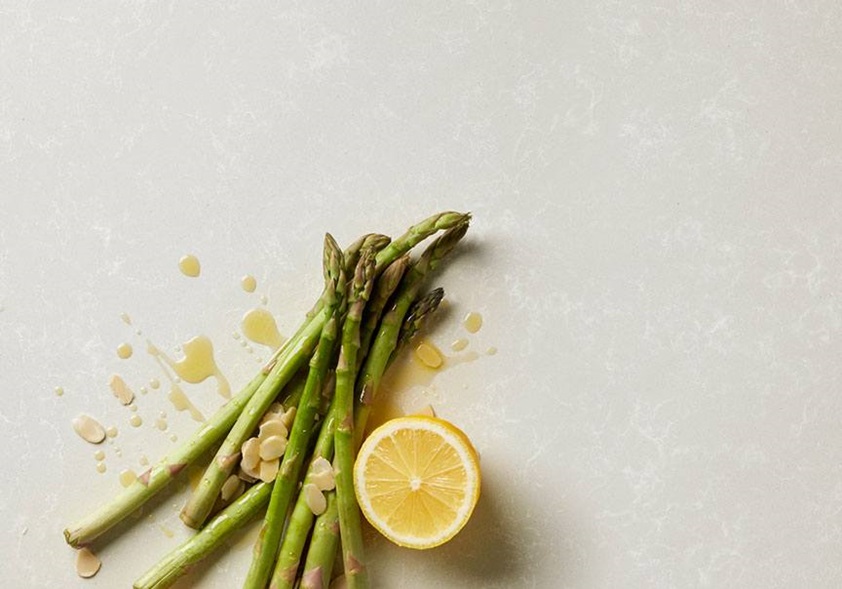 Essastone Milano Venato's neutral milky-white base and soft pure-white veining provides a foundation for almost any colour palette in traditional and modern kitchen styles. But to Valente, it most strongly suggested a contemporary open-plan kitchen, breezy and light. "We could've matched it to soft-neutral cabinetry or one of the various Laminex whites," she says. "But to capture its spirit in a single scene, we chose a handful of fresh ingredients that typify modern Australian cooking."

The yellow lemon, green asparagus, pale almond and olive oil also show how well Milano Venato can complement the introduction of organic decors.
Ethereal Concrete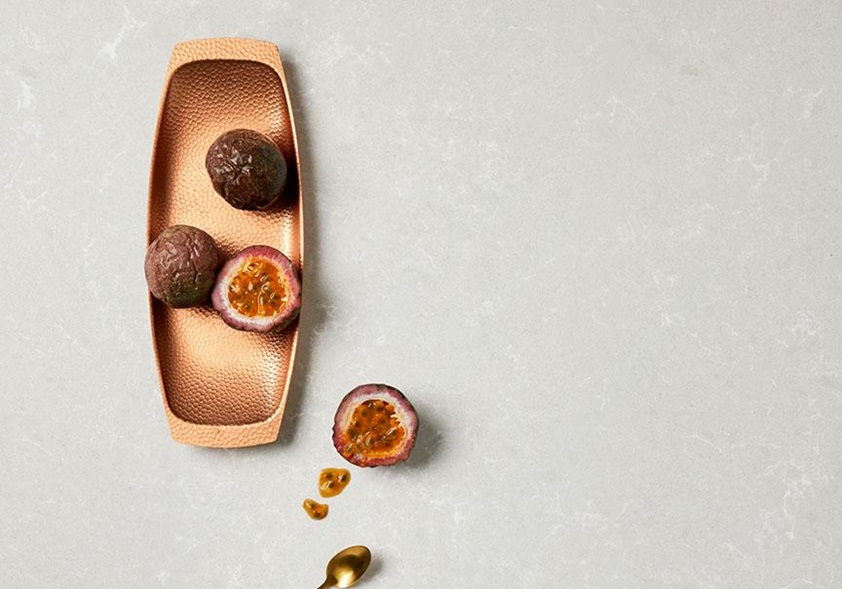 "I wanted to bring out a contemporary side to Essastone Perla Venato," says Valente, "and show how its soft vein detail and sophisticated tonal gradation have an ethereal concrete look." Perla Venato's warm grey base sits beautifully with a range of colours, including warm timber tones and mid-tone and rich neutrals, but it was the stone's affinity for metallics that captured Valente's imagination.

"Combining it with our new metallic Laminex decors like Copper Brush or Brushed Brass, would look stunning in a kitchen," she says. "To illustrate that potential, we styled it with a lustrous hammered-copper tray and passionfruit for a pop of rich colour."
Clean and modern with a playful spirit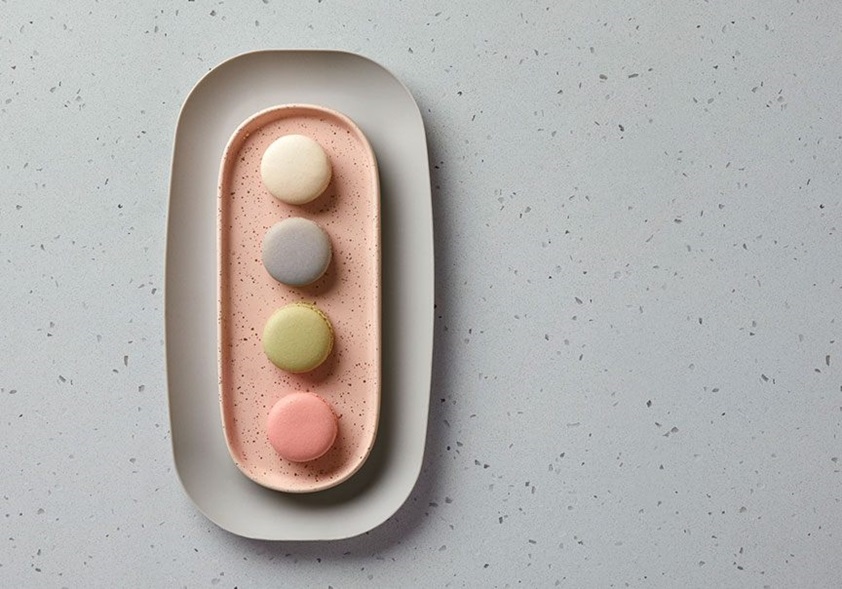 "Terrazzo is a key movement for 2019," says Valente, "and our new Essastone Terrazzino decor celebrates that look." Unsurprisingly, Terrazzino is ideal for designs with a slightly retro feel, but it was very much created with clean, modern designs in mind. "It has this perfect grey base," she says, "and particles in various levels of contrast that bring a sense of depth."
Black granite like the night sky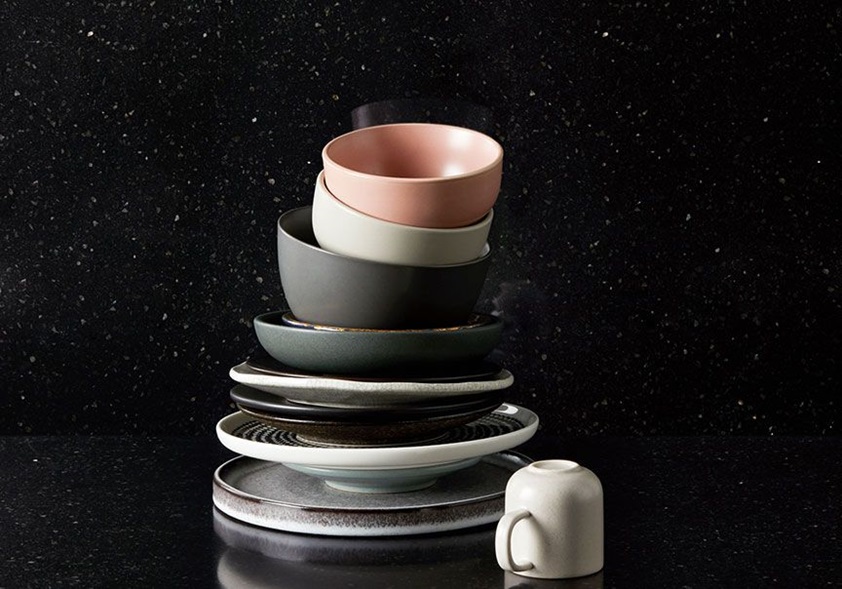 The popularity of black stone surfaces, and the strong contemporary edge they bring to interiors shows no signs of abating. But Essastone Lava Black gives the look an update for 2018 and beyond, with reference again to the movement towards terrazzo.
Its rich black granite base is flecked with grey basalt and coffee-toned granular details, which appear as pale stars in a night sky. "Presenting Lava Black as a splashback allowed us to stack differently coloured dishes in front of it to show how many diverse colourways and textures it can be matched to," Valente explains.
Explore the full range of Essastone decors and request your free samples.